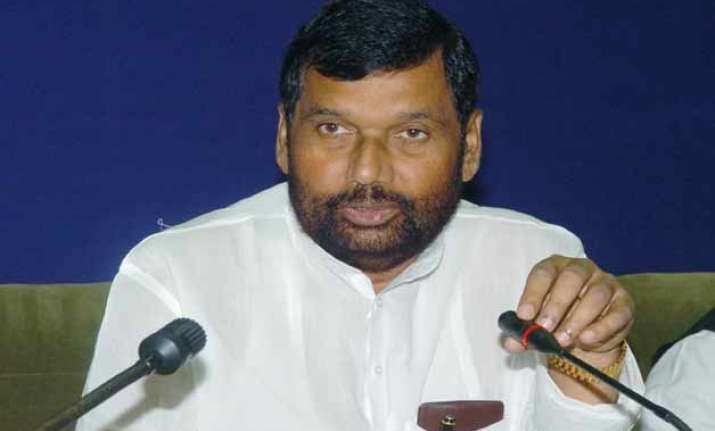 Chennai: Dismissing the Janata Parivar as having no future, Lok Janshakti Party President and Union Food Minister Ram Vilas Paswan today claimed that the National Democratic Alliance will get two-thirds majority in elections to the Bihar Assembly later this year.
"In Bihar, Janata Dal (U) and RJD are fighting like anything. Even now, Samajwadi Party is not ready to accept them and so in Bihar we will get two-thirds majority," Paswan claimed.
Leaders of six Janata Parivar parties, including the Samajwadi Party, JD(U) and RJD, had announced their decision last month to merge into one larger entity.  
Dismissing the Janata Parivar as having no future, Paswan told reporters here, "till now there is no single symbol, single name, and single flag and it will never be."
The NDA had won elections in states including Haryana, he said, adding Bihar would also fall into the kitty of the BJP-led alliance.
The NDA government has made a "strong foundation" during its first year and in the remaining four years, promises made before the masses will be fulfilled, he said.  On the NDA's first anniversary ministers will address public meetings, he added.
"I can say with pride that under the leadership of Narendra Modi, it is a glorious period and (both) inside and outside the country, the nation's prestige has gone up," he said and claimed that there was zero corruption.  The inflation rate was also "below average", he said, adding the "government has done excellent work."