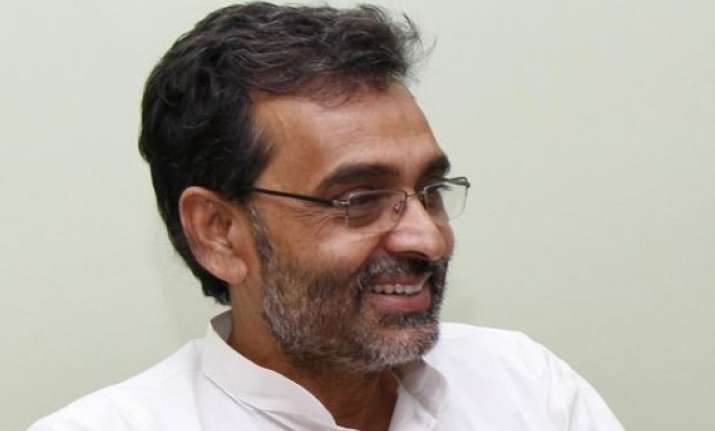 Dhanbad: Rashtriya Lok Samta Party (RLSP) supremo and Union Minister Upendra Kushwaha today said a wave of electoral change is blowing in the country and will also hit Jharkhand and Bihar in the coming Assembly elections.
The Union Minister of State for Rural Development said people now want change and under the leadership of Narendra Modi, NDA would achieve the desired results in Jharkhand and Bihar.
"Growing popularity of Narendra Modi in the country will not hamper the seat sharing formula in Bihar. Rather all constituent parties of NDA including BJP and Lok Janshakti Party will enter the electoral field with new vigour," he said stressing that a Maharashtra-like situation would not appear in Bihar.
Demanding a CBI probe in Bihar's medicine scam, Kushwaha said the grand alliance of Nitish Kumar and Lalu Prasad would not able to stop the successes of NDA as people of the state have seen the performance of all parties for the past 25 years.
"Nitish Kumar is demanding 'mazdoori' (labour charge) from people of the state. When he did not work in the state, then for what reason will the people give him mazdoori? He has only pushed the state to anarchy," he said.
Reacting over the resentment of doctors in Bihar over a statement of Chief Minister Jitan Ram Majhi, the Union Minister said the CM was making controversial statements in sheer frustration as bureaucrats do not obey his directives.
"Officers do not execute the policies of Jitan Ram Majhi forcing in the Chief Minister to make such controversial statements in frustration," the Minister said.