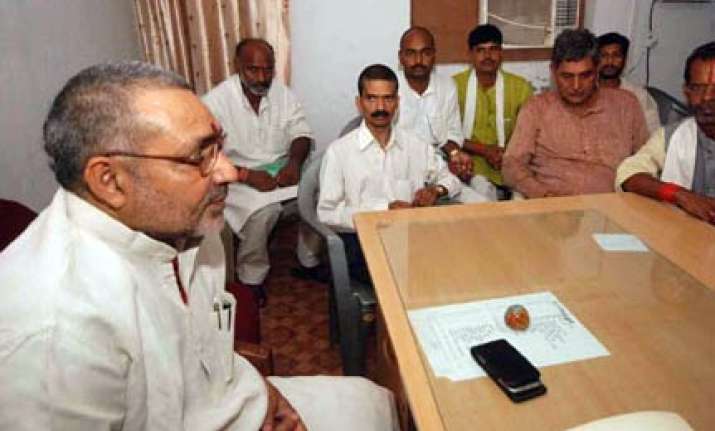 Patna, Nov 19: The BJP today claimed that the NDA's return to power for a second term in the assembly polls was a foregone conclusion as the electorate had reposed trust in it to deliver development over the next five years.
"We (NDA) may not have fulfilled all our promises made last time...but have been able to win the trust of the people to deliver development during the next term," senior BJP leader and Cooperative Minister Giriraj Singh told reporters.
The long queques at the polling booths and a significant higher turn out was clearly indicative of the fact that the electorate trusted the NDA government headed by Chief Minister Nitish Kumar to deliver the goods and make Bihar a developed state over the next five years, he said.
The NDA goverment's major achievements like an improved law and order situation, road construction, social amity and bicycles for students had gone down well with the masses, Singh said.
The NDA's bid for a second term received a tremendous boost once the RJD President Lalu Prasad annouced himself to be the Chief Ministerial candidate of the RJD-LJP combine, the BJP leader said adding that the electorate did not want a repeat of 'jungle raj' in the state.
In a dig at Prasad, he expressed hope that the RJD-LJP combine may win enough seats to play a credible role as the opposition in the next NDA government.
Singh also discounted the Congress as a major factor in the Bihar polls and claimed that both the Congress chief Sonia Gandhi and her son Rahul Gandhi had failed to revive their party and its prospects. PTI