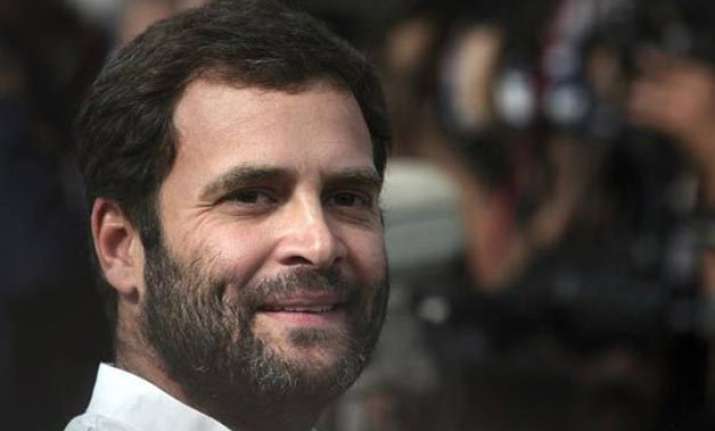 Lucknow: Congress vice president Rahul Gandhi's dream to see his Lok Sabha constituency Amethi emerge as a major food processing hub in the area may not be realized as NDA government has cancelled the mega food park project in Amethi.
When contacted, a senior Food Processing Ministry official said that the company, to which the project was allocated, did not fulfil certain conditions even after extension of deadline.
"The project was cancelled as Shaktiman Food Park Ltd was not able to fulfil certain conditions including possession of land within six months of the date of allocation."
The official also said that Shaktiman Food Park has informed the ministry that the project is unviable if gas at subsidised rate is not provided for the captive power plant, for which he added there was no provision under the policies for food park.
The Rs 200-crore project was inaugurated in October 2013 by Gandhi, Aditya Birla Group chairman Kumar Mangalam Birla and former Union minister for food processing industries, Charan Das Mahant.
It was the first such project in Uttar Pradesh which was to be set up by Aditya Birla Nuvo Limited in Jagdishpur, Amethi.
"The central government has cancelled the food park project in Amethi which aimed at providing employment to some 40 thousand people," Rahul Gandhi's representative looking after the development of Amethi, Maan Singh said.
"The project would have helped the farmers of not only Amethi but also of the entire state," Singh said, adding that contentions, if any, of the Central government that the project was not viable or had technical flaws are wrong as all the norms and formalities had been completed before its foundation was laid in October 2013.
The park was aimed at giving direct or indirect employment to the jobless in 20 districts, providing market to the produce of the area and uplifting the economy of the area.
While laying the foundation stone, Rahul Gandhi had said, "Farmers are the most hard working and they get least. That is why we are establishing a food park here."
"The food park is being made with the aim that whatever is grown in Amethi should be processed here too. An agriculture hub should be established here, we want to bring change in Amethi and Jagdishpur. 40 industries will be established here it will help 40,000 people," he had said.
The Ministry official said, "Even the deadline was extended to two years but the company was not able to fulfil the minimum criteria of 50 acres of land."
Senior Congress leader Akhilesh Pratap Singh said that cancellation of the food park is yet another indication of the anti-farmer thinking of BJP and Modi government.
"Uttar Pradesh is such a big agriculture state and there is not a single mega food processing park here," BJP has so many MPs from UP and all the important ministers including the prime minister is from the state yet what has the state got.