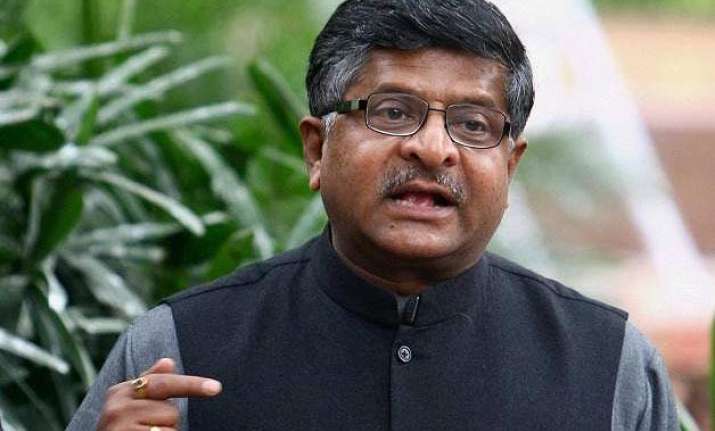 New Delhi: Days ahead of marking its first year in office, NDA government today strongly rebutted the opposition's charge that it was "anti-poor" and asserted that the Narendra Modi dispensation believed in growth and social justice and had ended crony capitalism which was "rife" under UPA's tenure.
Telecom Minister Ravi Shankar Prasad said brokers are "no longer seen in the corridors of government offices" since the BJP-led government entered office about a year ago while claiming that they had called the shots under UPA rule when party leaders sent "chits" to ministers to influence decision-making.
Taking part in an event organised by news channel, senior Congress leader Ghulam Nabi Azad accused the government of "self-glorification" and said it gave an impression that whatever it was doing, including the foreign tours of the Prime Minister, was happening for the first time.  
Noting that not a single Union minister had attended the function to mark the death anniversary of former Prime Minister Rajiv Gandhi, the Leader of Opposition in Rajya Sabha termed it "shameful".
Asked if Modi allowed ministers a say in the Cabinet and in their functioning, Chemicals and Fertilisers Minister Ananth Kumar said "nothing could be further from the truth" than the accusation that the Prime Minister centralised powers. Kumar insisted that Modi encourages them to come up with new ideas and discuss issues thoroughly.
Trying to turn the tables on the Congress over its "suit boot ki sarkar" jibe at the government, Kumar said the UPA dispensation was a "jhooth, loot ki sarkar" (government of lies and loot) while BJP rule was scam-free and honest.  
Pointing at social security schemes launched by the Centre, he said the opposition's propaganda that NDA was anti-farmer was an attempt to spread "disinformation" and its impact was superficial.
"At the ground level, people are with the policies of the Modi government," he said.
Prasad said the government would be setting up call centres in smaller towns like Bhagalpur, Deoria and Chhapra to provide employment to youths.
"This country has seen politics over giving away 'roti' to people (poor) but not how to increase the number of rotis.  This is what we are trying to do so that rotis can be distributed easily," he said, adding, "We need investment as well as social justice."
Prasad said whatever is doable shall be done while that which is not doable shall not come to pass under any pressure.  "You may have seen that this government has given licence to companies, it has also caught people who were involved in leaking official secrets," he said.
Asked about the BJP's charge that Congress was using Rajya Sabha, where the government lacks numbers, to undermine Lok Sabha by blocking legislations passed by the Lower House, Azad said that the members of the Upper House are accountable to the people as well as to the MLAs who elect them. "Their responsibility is double," he said.
Making a jibe at the government claiming big cuts in several ministries and social security measures, he said that was the biggest achievement during its one year in power.  Kumar said his government will ensure that the urea price does not increase in the next four years of NDA's term.  
Prasad said, "I have heard Jairam Ramesh saying 'minimum governance, maximum arrogance'. I understand his problem. He has been in the habit of working with a Prime Minister who had to repeatedly look at No.10 (Janpath, residence of Congress chief Sonia Gandhi)."