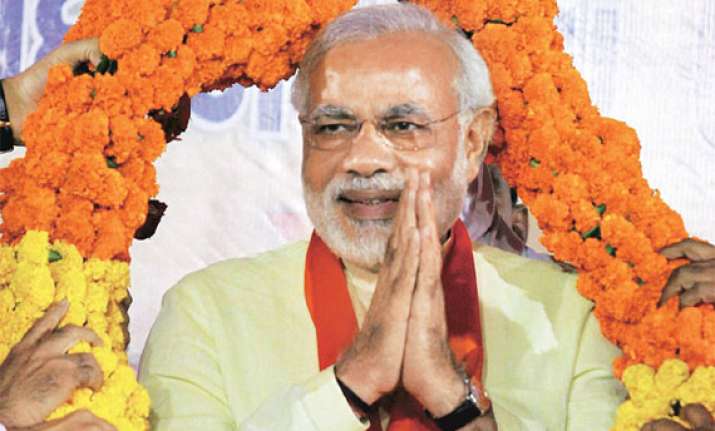 New Delhi: Narendra Modi, who steered BJP and the NDA to a landslide victory in the Lok Sabha elections, was today appointed Prime Minister, ushering in a new era of a non-Congress government with an absolute majority on its own in 30 years.
"I came to call on the President. The President has given me a formal letter (of appointment as the PM) and has invited me for oath-taking ceremony on May 26 at 6 pm as we had earlier decided," Modi told the media emerging from the meeting with the President Pranab Mukherjee.
NDA leaders Tuesday met President Pranab Mukherjee and requested him to invite Narendra Modi to take oath as the next prime minister of the country on May 26.
Speaking to reporters after meeting the president, party chief Rajnath Singh said: "Today the BJP parliamentary party has unanimously elected Narendra Modi as its leader."
"We have met the president and apprised him of the resolution of the BJP parliamentary party, and gave him a copy of the resolution and requested the president to invite Modi to take oath as the next prime minister of the country on May 26," Singh said.
Those who met Mukherjee included BJP leaders L.K. Advani, Sushma Swaraj.
The leaders from the NDA included: Lok Janshakti Party's Ramvilas Paswan, Shiv Sena's Uddhav Thackarey, Telugu Desam Party's N. Chandrababu Naidu, Shiromani Akali Dal's Prakash Singh Badal, and Apna Dal's Anupriya Patel.