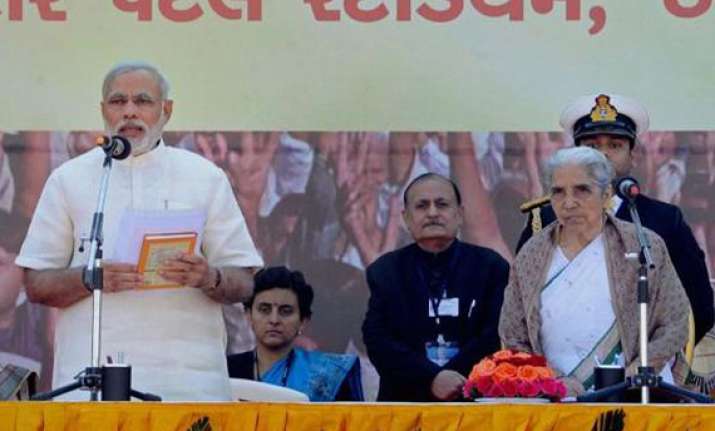 Ahmedabad, Dec 26: Narendra Modi, who powered BJP to an emphatic victory in Gujarat, was today sworn in as Chief Minister for the fourth time at the head of a 17-member ministry, in a ceremony boycotted by Opposition Congress and NDA ally JD(U).
Modi was administered the oath of office and secrecy by Governor Kamla Beniwal at a public ceremony marked by the presence of a galaxy of top BJP leaders and allies as also conspicuous absence of any representative of key alliance partner JD(U) and Opposition Congress.  
Modi, who became Chief Minister for the first time in 2001 and again in 2002 and 2007, was sworn in along with seven ministers of Cabinet rank and nine Ministers of State.
 Nitin Patel, Anandi Patel, Raman Vora, Bhupendrasinh Chudasama, Saurabh Patel, Ganpat Vasawa, Babhbhai Bokhiariya took oath as Cabinet ministers, while Purshottam Solanki, Parbat Patel, Vasuben Trivedi, Pradeepsinh Jadeja, Liladhar Vaghela, Rajnikant Patel, Govind Patel, Nanubhai Vanani and Jayanti Kavadiya were sworn in as Ministers of State.