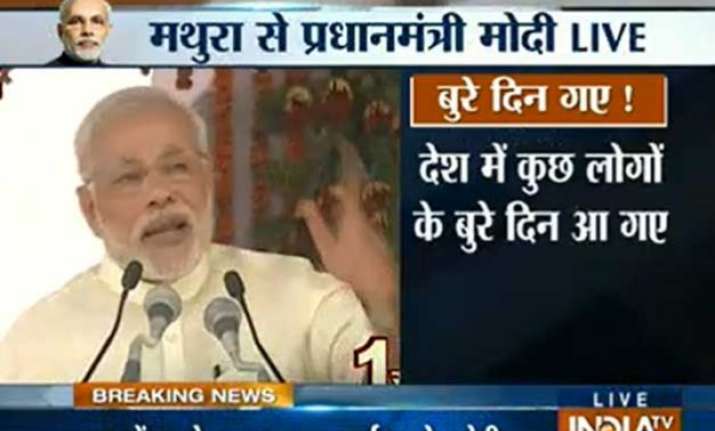 HIGHLIGHTS:
*PM Narendra Modi concludes his rally at Mathura
*Mai gareeb ko sashakt banana chahta hun,ki mere gareeb bhai behan hi gareebi ke khilaaf ladayi ladne wali meri fauj ban jayenge: PM Modi
*We will get rid of poverty, make our nation economically stronger, make our nation proud globally : PM Modi
*Maine beeda uthaya hai, 2022 main jab Bharat ki azaadi ke 75 saal honge, tab Hindustan ke gareeb ke paas apne ghar honge: PM Modi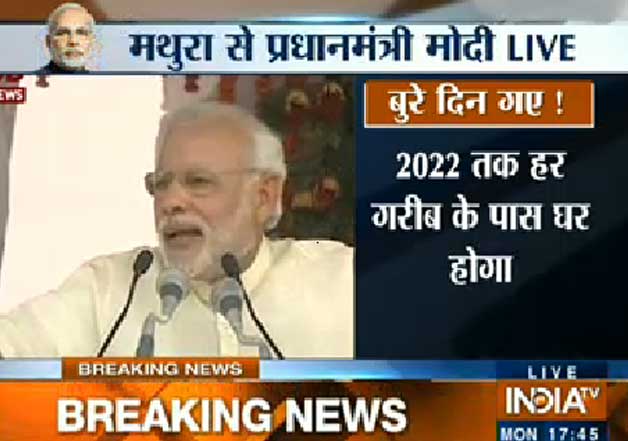 *There are small traders who sell vegetables, milk, newspapers, have small industries, they employ 12 crore people of nation: PM Modi
*Big corporates don't generate a lot of employment. It is the small traders,businessmen who provide the maximum employment-PM Modi
*Now the world is trusting India and this is bringing investment in India: PM Modi
*If you had not elected this Govt,don't know how inflation would have affected your lives; we have been able to control inflation: PM Modi
*We want to create an environment where there is a sense of social security within people, we have introduced Atal pension yojana: PM Modi
*In the coming days 1300 laws will be abolished: PM Narendra Modi
*Bathees lakh log aise hain jinhe sau rupaya say ziada nahii milta. Hamari sarkar nay ek hazaar rupya tai kia
*We introduced process of self attestation according to which citizen of nation says, 'I honestly say these are my documents': PM Modi
*Earlier citizens of nation had to get photocopy of their documents signed by MLA or corporator,why? citizen of my nation is not truthful? PM
*Pehle sarkaar aisi thi ki ek kaarkhaane ko ek daam, doosre kaarkhaane ko doosra daam,humne sab fertilizer kaarkhaano ka ek daam rakha hai: PM
*We are making efforts so farmers of nation get adequate water, electricity and land: PM Modi
*Have thought about soil health cards for farmers, through this the farmer will know about the condition of the land: PM Modi
*Issue of farmers' suicide must not be politicized,we must look into why farmers are unhappy after 60 years of Independence: PM Modi
*We opened bank accounts for the poor. The poor were not given the opportunity to enter banks for so many years: PM Modi.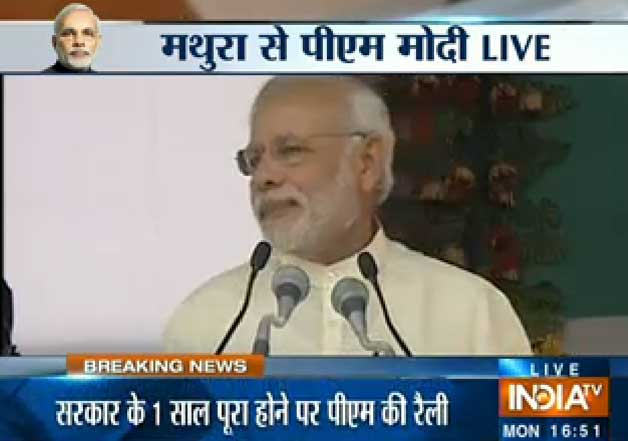 *Kisaan 1 ho ya 30 lakh,marne wala kisaan hindustani hai,mera bhai hai, sarkar kisi ki bhi ho,iss mudde par rajneeti nhi karni chahiye: PM
*Lekin humne aise prabandh kiye hain ki Dilli se ek rupeya niklega toh poore ke poore 100 paise gaon mein jayenge-PM Modi
*It's been 60 years, more than 3 lakh farmers have committed suicide, I'm not here to discuss who's responsible for that: PM Modi
*Rajiv Gandhi ji ne kaha tha Dilli se ek rupeya nikalta hai to gaon jaate jaate 15 paisa ho jaata hai,beech mein bicholiye hote hain : PM
*Yeh jin logon ne desh ko loota hai, unke acche dino ki guarantee maine nahi li thi: PM Modi
*Mai pradhan sevak hoon, pradhan trustee hoon, mai lootnay nahii doonga, is liye un logon kay burey din aaye hain
*Jinhone desh ko loota hai, unke acche din ki guarantee maine nhi li thi, unke aur bure din ayenge: PM Modi
*Last year the issue was coal scams, this year it is about auctions and money that has been raised for the state coffers: PM Modi
*Kuch logon k burey din aayen hain,vo cheekh rahein hain kyonki 60 saal tak Dilli ki galiyaron mey sirf unki chlti thi
*PM: loot lo, hum bhii lootein tum bhi looton, yahii kartey thii pehli sarkar.
*Burey din gaye kii nahii gaye? lootnay vaalon kay din gaye kii nahii gayee? : PM
*Koyla pehle bhi nikalta tha, lekin gareeb ki bhalayi ke liye koi kaam nahi hota tha: PM Modi
*I want to ask you today, didn't I deliver on my promises? loot has been put to an end or not? PM Modi
*Yeh parivartan Modi nahi laaya, yeh parivartan aap laaye hain: PM Modi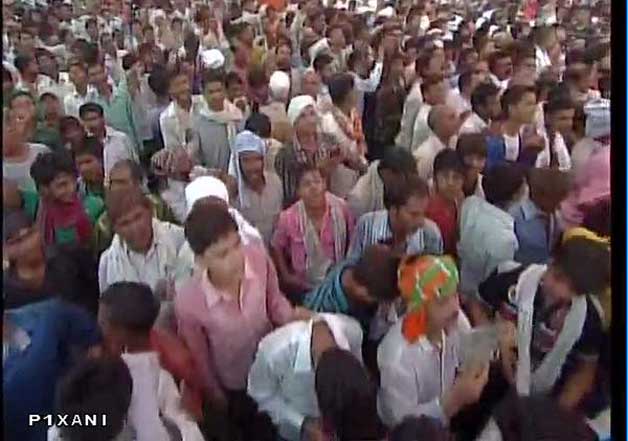 *Pehle remote control se sarkar chalti thi ki nhi? koyle ki chhori hui ki nhi? kitne bure din the,bure karma the: PM
*Every day there were scams, remote controls ran the Government, officers were jailed, leaders were jailed, coal was stolen: PM in Mathura.