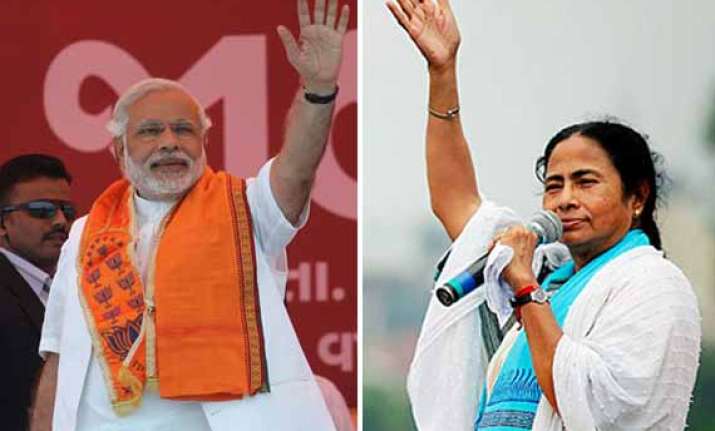 New Delhi: The way Narendra Modi has taken on Mamata Banerjee has baffled the common man who till recently were under impression that Modi was trying to seal a secret deal with Mamata Banerjee for  post poll adjustment, if not a full- fledged support.
In his first poll rally in West Bengal, Modi had desisted from launching any personal attack on Mamata Banerjee and her government. He went on to say that the people of Bengal should vote in a way so that they have Modi at the centre and Mamata in the state with Pranab Mukherjee in Rashtrapati Bhawan to take care of their needs.
It was a clear indication of Modi going soft on Mamata and looking for a post-poll deal with her party.
Evem Mamata Banerjee was vague and  started deflecting questions on a post-poll tie up with Modi- led BJP.
All of a sudden, Modi seems to have changed his strategy vis-à-vis Mamata. In his Sreerampur rally, Modi launched a blistering attack on Mamata and raised questions over one of her paintings being sold for Rs. 1.8 crore.
Modi asked her to name the person who bought that painting. Actually, he was referring to the reports in Bengal media which suggested that Sudipta Sen, the chairman and the managing director of the Saradha Group, had bought that painting.