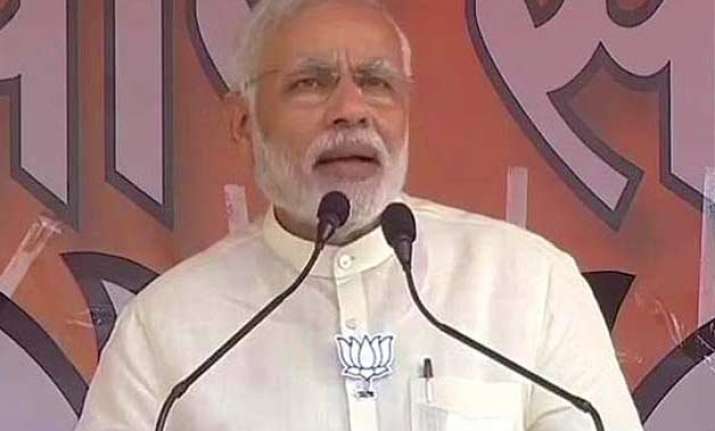 New Delhi: Prime Minister Narendra Modi today addressed a public rally in Muzaffarpur's Chakkar Maidan.
At today's mega rally, top BJP leaders and representatives of NDA shared the dais with Modi. They were: LJP's Ramvilas Paswan, Upendra Kushwaha of RLSP and Jitan Ram Manjhi of HAM, Secular.
PM Modi targets Nitish, says he 'back-stabbed' people of Bihar
Muzaffarpur (Bihar): Kickstarting NDA's poll campaign in Bihar, Prime Minister Narendra Modi today focussed  his attack on former BJP ally and Chief Minister Nitish Kumar, accusing him of "back-stabbing" the people of the state and alleging that there is some problem with his "DNA".
Modi also targeted Kumar for allying with RJD, saying he was trying to drag the state back to the 'jungle raj', and asked the voters to reject such people as they "cannot be trusted" again and elect NDA with a two-third majority for changing Bihar's fate.
He said Bihar will be given a special package "bigger" than Rs 50,000 crore which he had promised earlier and that will be announced after the end of Monsoon session of Parliament as his "lips are sealed till then".
Addressing a public meeting here, he said Kumar practices "political untouchability" as he recalled how the JD(U) leader had refused to entertain him after inviting him over dinner and had snapped ties with BJP because of his dislike towards him two years back.
Modi took a dig at Lalu for his comments about "drinking poison", which was made in an apparent reference to his accepting Kumar's leadership. He said while he had chosen to do so for his "vested interest", why was he forcing the people of Bihar to "drink poison" along with him.
"During the last elections, Kumar had said that if he was unable to provide electricity to entire Bihar, he would not come to ask for votes again in 2015...But have you got the electricity? It has not come. But he has come to ask for votes. He betrayed your trust. Forget me, he even back-stabbed you. Such people cannot be trusted again," he said.
Seeking to play a dalit card, he said Kumar had practised "political untouchability" not only towards him but also a "mahadalit" former Chief Minister Jitan Ram Manjhi, an erstwhile leader of JD(U), who has since joined NDA.
He said even George Fernandes, former associate of Nitish Kumar, and BJP leader Sushil Kumar Modi, were not treated well by him even though they had worked shoulder-to-shoulder with him.
"There seems to be some problem in his DNA because the DNA of democracy is not like that. In democracy, you give respect even to your political rivals," he said.
Modi, on his first visit to the state since becoming the Prime Minister in June last year, referred to Kumar's parting of ways with BJP to protest his projection as NDA's Prime Ministerial candidate two years back and said the Chief Minister had "strangulated" the state's progress because of his dislike for him.
"I can understand that you may not like one person, you may not like his face. There can be political rivalry. But if you were so much against me, you could have slapped me or strangulated me in a room.
"But, just for one person, you strangulated the progress of Bihar. Is this how democracy functions? In politics, there can be differences. I am pained, not because what you did to me, but what for what you did for the people of Bihar," he said.
Referring to the public detest expressed by Kumar towards him, Modi recalled, "The Chief Minister had invited me over dinner. But then snatched my plate."
He was talking about a dinner planned to be hosted by Kumar in 2010 for BJP leaders who were assembling in Patna for National Executive meeting but cancelled it at the last moment after advertisements appeared showing him and Modi with hands clutched.
"It hurt me badly but I kept quiet and never spoke about it. Lalu is saying now that he had to drink poison, I drank poison then," Modi said and asked, "Should such untouchability be practised in politics?"
Addressing Kumar, he said people of Bihar had supported him to free the state from 'jungle raj', an apparent reference to Lalu's tenure, and said "today, you want to push Bihar again to jungle raj (by associating with Lalu)."
Asking voters whether they would support such "DNA", the Prime Minister said, "Will you forgive them? We cannot leave Bihar in the hands of such elements. We won't let jungle raj to return to Bihar. We should take a pledge on this."
He then went on to describe RJD as "Rozana Jungle Raj Ka Darr" and said the people should not allow it to return to Bihar.
There is no discussion in Bihar about developmental issues like roads, water and power but the discourse was concentrated on "snakes" and "poison", he said, in an apparent dig at Kumar and Lalu who had made such comments recently.
"Who is snake and who is not, who drinks poison and who is making the other drink. That is your internal matter. You should decide that between yourselves in a room. Don't force people of Bihar to drink this poison," Modi said.
Modi also took a dig at Kumar for his tweet just before he landed in Bihar, saying the Chief Minister had welcomed his arrival with a complaint that he was visiting the state after 14 months.
"Chief Minister, I am grateful for the welcome...How times change...There was a time when you used to say that 'we already have one Modi (Sushil Kumar), so what is the need for another Modi to come to Bihar," he said, while recalling how Kumar had been strongly resisting his entry into the state.
"But, see today, how much one can be troubled by separation from the loved ones...When you love somebody so much, even a day's separation is too much... Don't worry, I have come now. There will be no further separation," Modi said in comments full of sarcasm.
Responding to Kumar's dig at him for coming after 14 months, Modi said, "the last Prime Minister (Manmohan Singh) visited the state only once in 10 years, that too for an aerial survey. But my coming here after 14 months is too much for him."
Seeking a two-third mandate for NDA in Bihar in the Assembly polls expected later this year, he told the voters that they had tried every other party and formation and should give the BJP-led coalition a chance this time.
"I have come here to change the fate of Bihar," he said. Modi said Bihar will prosper if NDA is in power, both at the Centre and in the state, as he promised all support from his government to take the state to new heights, with 24-hour power supply.
In this context, he said Bihar has huge potential because of its resources but it has been pushed to backwardness and there have been no efforts to develop it.
"Some people make promises and back out later. When you remind them, they feel bad about it. We make promises and fulfill them," the Prime Minister said, while talking about according 'Special Category' status to Bihar.
Noting that he had promised to give a special package of Rs 50,000 crore to the state during Lok Sabha polls, he said that after becoming the Prime Minister, he had realised that the amount is not sufficient.
"I had envisioned a picture of a developed Bihar. The amount of Rs 50,000 crore will not be sufficient for it. That is why I have decided to give a bigger package. But since
Parliament is in session, my lips are sealed. Once Parliament session ends, I will again come and tell you how much it is," the Prime Minister said, adding "This is just the beginning."
Happy over the gathering at the rally, Modi said it reflected that NDA would get even a bigger mandate in the Assembly elections than the Lok Sabha polls, when the alliance got 33 out of 40.
Here is the highlight of Modi's speech:
* PM Modi finishes his speech in Muzaffarpur's Chakkar Maidan
* Kisi tractor mein agar ek engine laga ho toh zyada tez chalta hai ya agar do lage hon toh? Ek engine Dilli mein pehle hi de diya aapne: PM Modi in Bihar
* Abhi parliament chaalu hai,main bol nahi sakta,jaise hi khatam hogi main khud aake bataonga Bihar package: PM Modi
* During LS poll rally I spoke in Gandhi Maidan in Patna calmly amidst bomb blasts: PM Modi
* I have given the work of skill development to a minister from Bihar: Narendra Modi
* The day is not far when homes in Bihar will have gas pipelines: PM Modi
* When there will be no electricity then how will you charge mobiles,how will you see serials like 'Kyunki Saas bhi kabhi bahu thi'?: PM Modi in Bihar
* I have come to promise you 24 hours electricity in Bihar: PM Modi
* When i went to Bhutan I signed an agreement for a Hydro electric plant, Bihar will benefit the most from this plant: PM Modi
* Ye chunaav Rozana Jungle raaj se mukti ka chunaav hai: PM Modi
* RJD stands for 'Rozana Jungle Raj ka Darr': PM Modi in Bihar's Muzaffarpur
* George Fernandes ji ke saath kya kiya? Sushil Modi ji ke saath kya kiya? Kya aise logon ko maaf karenge?: PM Modi
* Jab Jitan Ram Manjhi ke saath bhi zulm hua tab main bechain ho gaya: Narendra Modi
* Ye pareshaani zyada se zyada 100 din ki hai, uske baad Bihar ki janta inki chhutti kar degi: PM Modi
* Bihar kay paas pooray Hindustan ka bhagya badalnay kii taalat hai: Narendra Modi in Muzaffarpur
* Arey bhai aap dono tai kar lo saanp kaun hai,zehar kaun peeta hai pilaata hai,Bihar kay logon ko peenay ka paani chahiye: PM Modi
* There is no discussion on development,law and order etc but on snakes and poison. These two should sit and decide who is what: PM Modi
* Maximum ministers, the important portfolios in this Government are from Bihar. Leaders from Bihar are running the entire Nation: Narendra Modi
* Jo log keh rahey they Modi ko Bihar mey ghusnay nahii denge toh kya Bihar ka bhala hoga ? Aisey log kya sarkar denge? (People who say 'wont let Modi ji come to Bihar,we dont need Modi ji' etc can they work well with Centre?): PM Modi in Bihar
* You have seen different models of governance, give the NDA a chance to serve you: Modi at a public rally in Muzaffarpur
* Ek baar humey bhii azmaa kay dekh lo (Give us a chance at least once) : Narendra Modi
* Aaj aap phir Bihar ko usi Jungle raj ki taraf ghaseet rahe ho? (Why are you again pulling Bihar to jungle raj?): PM Modi in Bihar's Muzaffarpur
* Agar main itna hi bura tha toh kamre mein aake chaanta maar dete,gala ghont dete, ghusse mein aake aapne poore Bihar ka vikas rok diya (If you were angry with me, you could have admonished me, instead you were so miffed that you forsook development of Bihar): PM Modi
* Hum zimmewariyon say bhaagnay vaaley log nahii, zimmewari nibhaanay valey log hain: PM Modi in Bihar
* I think Nitish ji was impatient that I did not come to Bihar for 14 months: PM Modi
* Chinta mat keejiye, mai ab aa gaya hoon (Do not worry anymore, I've come now): Narendra Modi in Muzaffarpur's Chakkar Maidan
* Some leaders of Bihar who used to make fun of tweeting, are now doing it themselves: Narendra Modi in Muzaffarpur, Bihar
* Saare political pundits yahan aake bheed dekh lein, pata chal jaayega kiski sarkar ban rahi hai (All political pundits should come here and see who will make the next government here in Bihar): PM Modi
* PM Modi starts his speech in Chakkar Maidan of Muzaffarpur
* PM Modi meets former Bihar CM Jitan Ram Manjhi
* PM Modi arrives in Muzaffarpur
Earlier in the day, the Prime Minister launched several development schemes and shared dais Bihar Chief Minister Nitish Kumar.
He also promised more than Rs 50,000 crore special package for the state.
Assembly poll in Bihar will take place in September-October.