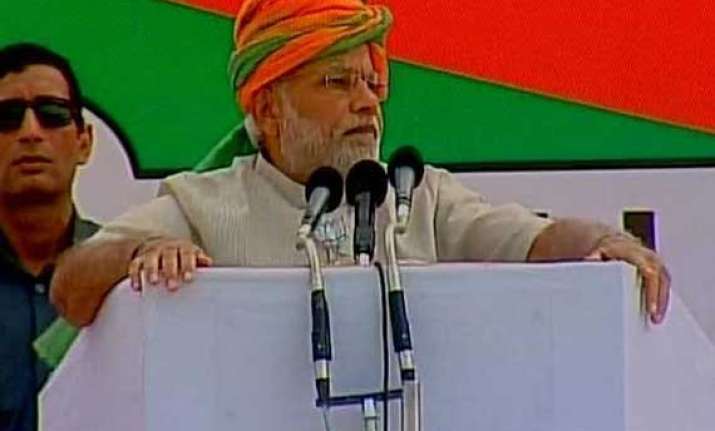 Hisar: Prime Minister Narendra Modi today accused Hooda government of finalising land deals of 'daamad'(read Robert Vadra) ignoring the 'Model Code of Conduct' that  was in operation. Modi said that Hooda govt has done this because they are aware that they won't be able to do any favours once results are out for Haryana assembly elections.
Addressing an election rally at Hisar in Haryana, Modi said," Even though Model Code of Conduct is in place they have finalized the land deals of 'daamad'. They have done this because they know they won't be able to given anything after results are announced.
Modi said it was for the poll panel to take cognizance and "appropriate action" in this matter.
"It looks as if the 'danda' (pressure) has come from the top. The Election Commission should take cognizance and appropriate action in this regard," said Modi.
 Modi launched a scathing attack on dynastic politics, rampant nepotism and corruption in Haryana and urged people to vote for the BJP in the Oct 15 assembly polls.
"We want to make Haryana free from this 'parivaar-vaad' (dynastic politics). In the last 25 years, have you seen a government in Haryana which worked for the welfare of people," he asked.
"In Haryana, the government works only for the chief minister and his family members. All political leaders have been running their shops in Haryana for themselves and their families," Modi said.
He urged voters to bring the BJP to power with full majority so that the state could be rid of dynastic politics, nepotism and corruption.
Here we are giving you live updates of Modi's rally in Hisar:
12:01 -Modi: Modi concludes his speech with chants of "Bharat Mata ki jai"
11:59 -Modi: Will you obey me? Whoever is sitting here, don't leave the place dirty. Pick up your bottles and any other scrap. Keep India clean.
11:58 - Modi: How will youth get employed if they don't have industries? I went to US, Japan and they all want to work with India. I have now become your neighbor. So you can depend on me to help you out. Vote for BJP so that I could help you. Corruption, land scams and loot. This is what has happened in Haryana. Now the state needs a Govt with full majority.
11:56 - Modi: India existed even before our govt took over the reins of power. But now the whole world is acknowledging India and wants to hold talks with us. It's not because of Modi. It's because you have given us a complete mandate. This has amazed the world.
11:52 -Modi: Sex ratio is horrible in Haryana. Soon our men will not be able to marry because of the wide gap. Should the girls of Haryana not be allowed to live? Do you want girls of haryana to suffer? I want to assure you that your brother in Delhi is there for you. I will help you. Dalit girls are raped to large extent. The previous government was being run by a woman. With a woman leading the party, shouldn't that party be all the more diligent in working for rights of women?  
11:50 -Modi: One rank one pension- Our army wanted this scheme, but the Delhi government did nothing about this. Our government implemented it the moment we came to power.
11:48 - Modi: We want every village to have electricity and water. Our farmers provide food to the nation through their sweat and labor. Haryana's soldiers take the responsibility to protect the nation. It is a state that shields and feeds the country.
11:46-Modi: Hoodaji has accepted his defeated. Even though Model Code of Conduct is in place they have finalized the land deals of 'daamad'. They have done this because they know they won't be able to given anything after results are announced.
11:45- Modi:  I want the entire nation to celebrate Pt Nehru's birthday on 14th December. He was also called Chacha Nehru. He loved children. We will also impart love by teaching them about hygiene and cleanliness. On his birthday we will again run cleanliness campaign. We believe in sabka saath sabka vikas. I request the Congress people TO participate in this drive. You have no work now. After elections you will be completely washed out. Since you are already sittle idle after your massive defeat, I will invite you  join us in celebrating Nehru's birthday. Indira Gandhi's Birthday falls on November 19. We'll continue our cleanliness drive on Novemener 19 as well.
11:43- Modi: Amitabh Bachchan hosts Kaun Banega Crorepati, but here in Haryana politics, people are playing Kaun Banega Arabpati. 
11:42-Modi: Congress party must see our railway budget, we have allotted 2 railway stations for Hisar. What the Congress could not do for you, we have done in 60 days.
11:38- Modi: Lotus has blossomed because Our Congress leaders has never been accountable for their work in the past 60 years…and you are asking me for 60 days' accountability. Have some shame, Congress! Have some shame. Haryana has now decided to throw Congress out of Haryana. They have recently given land to the son-in-law. They have the cheek to do corruption in midst of elections. They know that they will not come back after elections. I hope Election Commission will look into this and take serious action.
11:33-Modi: My Govt is running with the support of people of the nation, I dont need support from people in jail.Some people are spreading lies. Some are dreaming of taking oath from the jail,showing old photos with them taken in a certain program.
11:32-Modi: Some leaders of Haryana have always worried about their relatives only. Haryana will not change unless this practice is changed in Haryana politics.
11:31- Modi:  I congratulate all the players from Haryana who won medals and made India proud at the Asian Games.
11:30- Modi begins his speech
On Saturday, Modi kicked off poll campaign from Haryana's Karnal district where he asked people to vote for a Congress-free government. He had also criticised the claim of Congress which ranked Haryana as one of the top state.
The BJP recently ended its three-year-old alliance with the regional Kuldeep Bishnoi-led Haryana Janhit Congress (HJC).
Polling in Haryana will take place in a single phase on October 15 whereas counting of votes will be done on October 19.