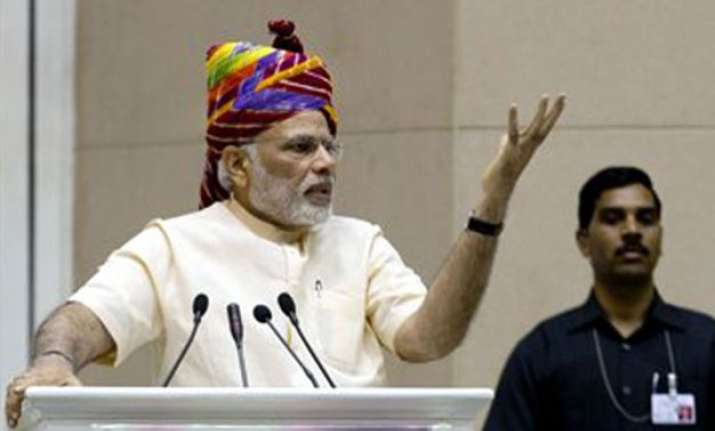 New Delhi: Launching a scathing attack on Congress party, Prime Minister Narendra Modi today said that Extra-Constitutional authorities were "really wielding" power in UPA government.
Putting down Congress President Sonia Gandhi's accusation that NDA government was showing "obstinate arrogance" in Parliament and that it was a government by "one person", PM Modi said, "Perhaps, she is referring to the fact that earlier extra-constitutional authorities were the ones really wielding power".
Reacting sharply to Rahul Gandhi's 'suit-boot ki sarkar' jibe, Modi said, "Congress has not been able to digest its crushing defeat in Lok Sabha polls even after a year."
"The people have punished them for their sins of omission and comission. We thought they would learn from this, but it looks as though they are proving right the earlier saying that if con is the opposite of pro, then Congress is the opposite of progress," he said.
Prime Minister Modi made these remarks in an interview to news agency PTI.
Modi rejected the criticism of concentration of power in PMO and pointed out that Prime Minister and PMO are "very much part of the constitutional scheme, not outside it."
Referring to the recent government action against NGOs, Modi said that no action has been taken contrary to the law and no patriotic citizen can object to this.
On GST and land acquisition bills, Modi said that their passage in parliament is just a matter of time.
"Any suggestions on land bill favouring the poor, the farmer and villages will be accepted by the government," Modi added.
Replying to a question on minorities, Modi said that Violence or any discrimination against any community will not be tolerated.
He rejected the criticism of his foreign trips and said that the opposition was levelling baseless allegations against him.
The Prime Minister said that his government will continue with its pro-people reforms.
"Our focus will be on pro-active, pro-people good governance reforms," Modi said.