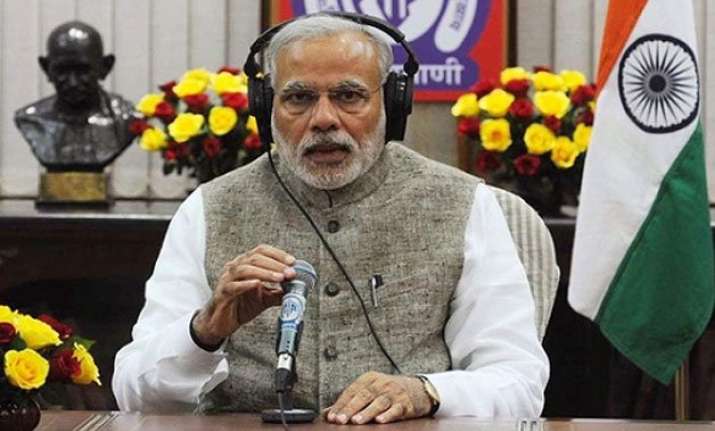 New Delhi: Prime Minister Narendra Modi today addressed the nation in the eighth edition of the 'Mann Ki Baat' programme on All India Radio (AIR).
He said that the government is committed to find a solution to One Rank One Pension issue soon.
He spoke in length about the new initiatives taken up by his government to fight poverty in the country.
The Prime Minister also congratulated students on their success in board exams and urged them to chose a career that would help India.
Here are the highlights of today's radio program:
* I will share your experiences with others as well, use #IncredibleIndia
* Can you share your experiences with me? Do so using #IncredibleIndia. Share photos, your experiences etc.
* I don't know if you write a diary but you must write down your experiences
* During holiday season many of you would have gone to places, many would be planning to do so now
* This government, and I repeat this government will give the solution to OROP
* We have been working in this direction ever since we came to power. This issue is complicated, not as simple as I prediceted
* I am not talking as a PM. OROP- for 40 years this question has been persisting. Nothing happened so far
* I want to talk about one more thing- to our brave army personnel, ex-servicemen
* I put forth a proposal of 'International Yoga Day' before UN,which was passed in 100 days through support of 177 nations
* Did we ever imagine Yoga will connect the world in this manner
* 21st June...do you remember. This day has a new identity for the world- 1st International Day of Yoga
* Along with agriculture/irrigation & animal husbandry can also contribute to economic growth of country
* Kisaan channel also have information related to fishing & animal husbandry
* Kisan TV channel is a channel where both the teacher and the student are farmers
* Kisaan channel is important for me, I see future through kisaan channel, it's an open university for agriculture & irrigation
* Another thing that gives me a lot of joy is the Kisan TV Channel (launched a few days ago)
* We have launched 3 programs to ensure social security of people of nation, it's an important initiative towards social security
* I have always wanted to work for the poor. We think of new initiatives, we take feedback on initiatives
* For those who couldn't pass, I say success and failure are part of life, you must not let go of this failure, must learn from it
* It's important that you realize your potential, capabilities and choose your path based on that
* So many people told me that your #MannKiBaat before the exams was very helpful. But, the reason for student's success is their hardwork
* Board exam results are out. I congratulate those who have passed the exams
* I urge you all to take care of yourselves in this heat. At the same take care of the birds & animals around you as well
The Prime Minister has already interacted directly with the people in the earlier seven editions of the programme. In the last edition broadcast on 26 April, he had shared concerns over earthquake in Nepal and pledged India's whole hearted assistance to the neighbouring country.
The Prime Minister has from time to time invited citizens to share their ideas and thoughts on the subject in the Open Forum of MyGov.in
The first edition of the programme was aired on October 3, 2014.
United States President Barack Obama was additionally an element of the January edition of 'Mann Ki Baat'.
The programme has generated an encouraging response from citizens across the country. It is simultaneously broadcast live on all channels of All India Radio and Doordarshan.