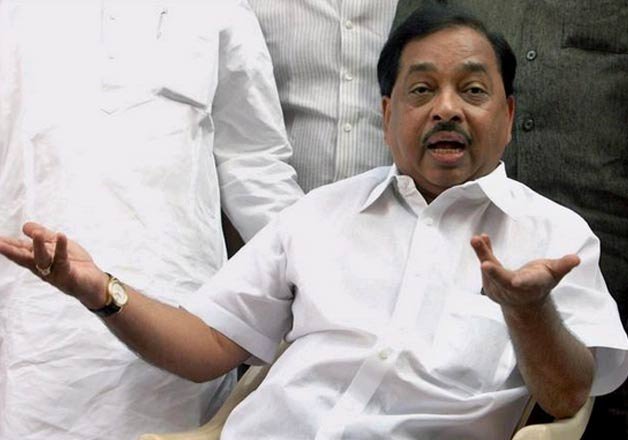 Mumbai: The upcoming byelection to Bandra East Assembly constituency will be a high-profile contest with the Congress announcing the candidature of former minister Narayan Rane who will take on the Shiv Sena nominee in the area which houses the residence of party chief Uddhav Thackeray.
 
Rane is set to take on Trupti Sawant, wife of sitting MLA Bala Sawant whose death necessitated the byelection.
 
Announcing Rane's candidature, state unit Congress chief Ashok Chavan said that All India Congress Committee (AICC) General Secretary Mohan Prakash conveyed the party's decision to him telephonically.
 
However, anticipating that his nomination was apparent, Rane called on NCP chief Sharad Pawar at his residence here in the morning and sought NCP's cooperation in the bypoll slated for April 11.
 
According to political observers, Rane, who was humbled by Sena in Sindhudurga's Kudal Assembly seat in last year's elections, will try to get even with the saffron party which had groomed him as a politician under (late) Bal Thackeray.
 
Rane was made chief minister when Sena-led NDA government was in power in 1995. He was expelled from Sena in 2005, following which he joined Congress.
 
"Parties like MIM, MNS and NCP are unlikely to cause trouble to Rane, while a section of BJP is of the view that the defeat of Shiv Sena in the by-election will help reduce its pressure on the state government," an observer said.
 
A senior Congress leader said, "If he wins, Rane will not be an ordinary MLA and Radhakrishna Vikhe Patil's occupancy of the Leader of Opposition post in the Assembly would come under threat. Similarly, Rane may also try to undermine the authority of the new state Congress unit chief Ashok Chavan."
 
Rane's aggressiveness and his potential to take on the BJP and Sena in the Legislature seems to have weighed in his favour, he said.
 
In October last year, Bala Sawant of Shiv Sena had defeated BJP's Mahesh Parkar by 15,000 votes in the seat.
 
Meanwhile, RPI's Ramdas Athawale appealed to Congress to not field its nominee from the seat on "humanitarian" grounds.