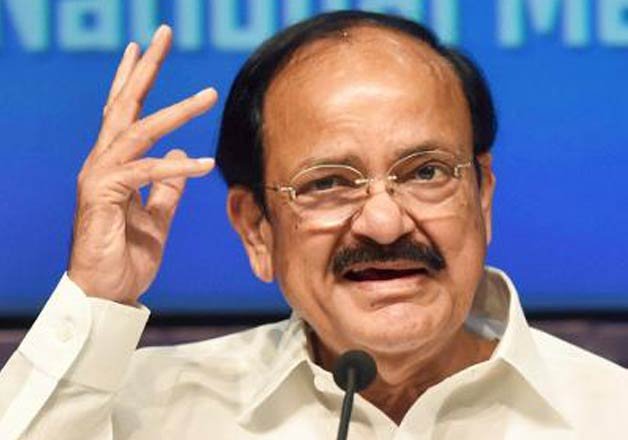 Hyderabad: Union Urban Development minister M Venkaiah Naidu today said the Congress and its allies had imposed president's rule on several occasions when they were in power.
Reacting to the criticism on the imposition of President rule in Arunachal Pradesh, Naidu said the opposition party (Congress) does not have moral right to question the intentions of the (present) NDA government.
Reading out statistics, Naidu said, "During Jawaharlal Nehru's rule eight times, Lal Bahadur Shastri once, Indira Gandhi about 50 occasions, during Charan Singh who was supported by Congress, VP Singh, Chandrasekhar and Raji Gandhi rule (together) 6 times, during PV Narasimha Rao tenure 11 times, Deve Gowda once and Manmohan Singh regime had imposed president rule on 12 occasions. What moral right does the Congress have to question the NDA Government on imposition of President rule in Arunachal Pradesh".
Explaining the circumstances that led to imposition of President Rule in the northeastern state, the minister said there was constitutional crisis in that state as the Assembly was not convened within six months from the last session.
"In Arunachal Pradesh, due to constitutional crisis, President rule was imposed. There, the Speaker has locked the Assembly to prevent the session from taking place. Ministers and MLAs tried to attack the (state) Governor. They abused him.
"There the government lost majority. Assembly has to be convened in six months that did not take place," he said.
 
Naidu said the present NDA Government has imposed President Rule on three occasions in the three different states - Maharashtra, Jammu & Kashmir and Arunachal Pradesh.
President Pranab Mukherjee had earlier this week given assent to the Union Cabinet's decision to impose central rule in Arunachal Pradesh.
On issuing ordinances, the minister said the Congress Government had issued 456 ordinances during the last 50 years.
Replying to a query on the demand made by Congress Vice President Rahul Gandhi to make a special legislation to end discrimination in educational institutions, Naidu said, "there
is no necessity for Bill. All you must have is political will" Meanwhile, Naidu took a dig at MIM Party chief Asaduddin Owaisi's for his comments supporting the agitating students of
the Hyderabad Central University, who are protesting over the suicide of Dalit research scholar Rohith Vemula.
"Owaisi talking about secularism is joke of the century," the Minister quipped.