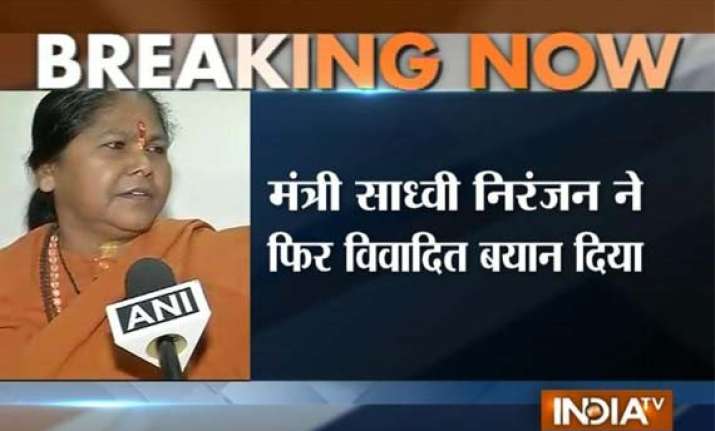 New Delhi: Minister of State Sadhvi Niranjan Jyoti Tuesday regretted her use of unparliamentary language while campaigning for the Delhi assembly election.
"I didn't have any ill intention. But whatever words that I spoke, I express my deep regret and I accept what I said," the minister said in the Lok Sabha while attempting to allay the tension her remarks triggered in parliament.
Following the minister's statement, Lok Sabha Speaker Sumitra Mahajan cautioned all members to be mindful of their speech.
At an election rally in Delhi Monday, Sadhvi Niranjan Jyoti had said: "People of Delhi have to decide if they want a government of Ramzaadon (followers of Ram) or a government of those who are illegitimate."
Narendra Modi led government faced the wrath of Opposition in the Parliament today as they demanded clarification on the statement of Minister of State for Food Processing Industries Sadhvi Niranjan Jyoti. She claimed Indian Muslims and Christians are children of Ram and those who didn't believe it should leave the country.
The Congress gave a suspension notice in Rajya Sabha on the comments made by Mos for Food Processing Industries Sadhvi Niranjan Jyoti.
Congress leader Randeep Surjewala said, "We condemn the use of words by Sadhvi Niranjan Jyoti. BJP is practising politics of division. The Prime Minister should answer for this as she belongs to his Cabinet."
Biju Janata Dal leader Jay Panda called the statement by Niranjan Jyoti highly deplorable one. He said, "I am saddened to hear the use of this kind of language by a Cabinet minister. It is highly deplorable."
NCP leader Majid Memon said, "What Sadhvi Niranjan Jyoti said is inappropriate. It does not matter what a person's religion is."
Samajwadi Party leader Ram Gopal Yadav said, "The minister should resign for using such unconstitutional language. The Prime Minister should apologise."
Senior Congress leader Ashwani Kumar said, "It is very inappropriate to issue such comments and use such language and it has never been used before. From this we understand where poltics is heading in the next couple of years. I understand that people will never support such ideas and thoughts."
Amid protests against Sadhvi Niranjan Jyoti, the Trinamool Congress protested against the BJP outside the Parliament.
Congress Vice- President Rahul Gandhi too joined the protest. The party released 33-page booklet narrating 35 'U-turns' taken by the BJP in 180 days.
Rahul Gandhi said, "The government has taken U-turn on all issues- black money, CAG. They have not done anything on any of the issues."