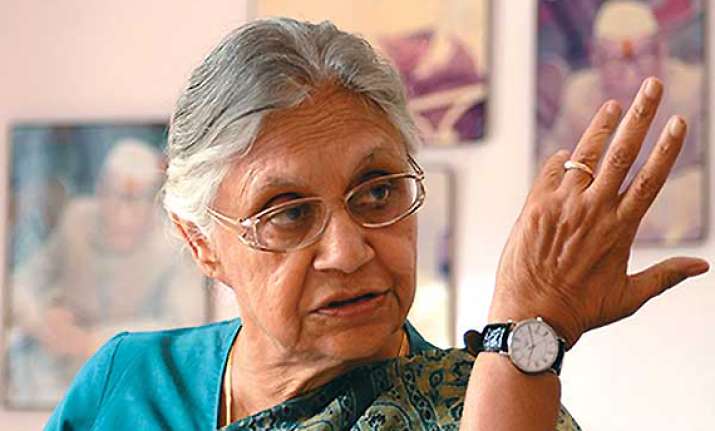 New Delhi, Apr 14: Playing it safe, Chief Minister Sheila Dikshit today said the election to the trifurcated municipal corporations tomorrow will not be a "referendum" on her government as it is being fought on local issues.  
She, however, exuded confidence on winning the polls saying people of the city are "fed up" with "corruption and inefficiency" of the BJP-ruled MCD in the last five years and they would vote for Congress to usher in a new era of better civic administration.
"The election would not be a referendum on my government as being projected by the BJP. How can it be a referendum? The election is being fought on local issues," Dikshit said addressing the media along with DPCC president J P Agarwal.  
The election is seen as important for Dikshit as she had strongly pushed for trifurcation of MCD despite stiff opposition from a section of Congress which had argued that splitting the civic body ahead of polls would badly affect the party.
Noting that every election was important, she said victory and defeat are part of the democratic process and one should accept peoples' verdict with humility.  
"People have experienced five years of BJP rule in the MCD. People keep close watch on everybody and I am confident they would vote Congress to power in all the three municipalities," she said.
Terming the polls as historic, she said for the first time people of the city will vote for three new municipal corporations—East, North and South Delhi municipalities— carved out of the MCD.
"This election would be historic as for the first time people will vote for the trifurcated MCD," Dikshit said.  
On BJP highlighting the increase in prices of essential commodities in the city, Dikshit said price rise was not an issue in the polls and claimed that Delhi is the "cheapest and most comfortable" metropolis in the country.  
"Price rise is not at all an issue. Is prise rise not taking place in BJP-ruled Karnataka and Madhya Pradesh...?  Delhi is the cheapest and most comfortable metropolitan city in the country," she said.
Addressing the media, Agarwal showered praise on Dikshit for putting lot of hardwork by criss-crossing the city to campaign for party candidates.
"She has been putting lot of hard work to ensure victory of our candidates. I must appreciate her efforts," said Agarwal, who was strongly opposed to trifurcation of the MCD.  The DPCC president said Congress will win in all the three civic bodies as there is a "wave" in favour of the party.
"We are winning in all the three municipal corporations.  There has been a wave in support of Congress across the city," Dikshit said.
Asked whether the party violated election code of conduct by holding the press interaction as campaign for the polls had already concluded, Agarwal said the party decided to address the media as BJP also held a media briefing earlier in the day.