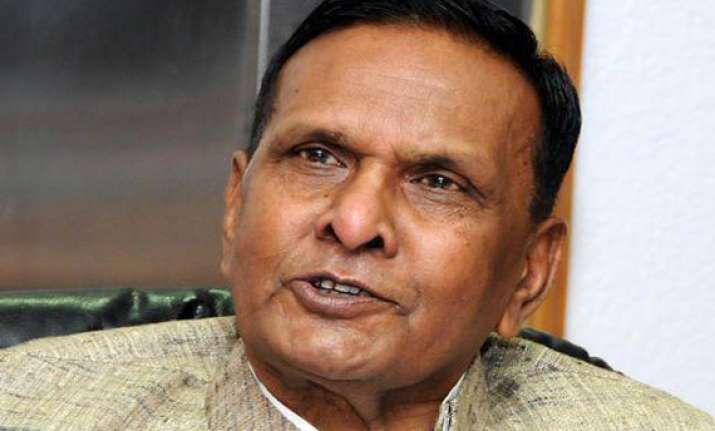 Barabanki (UP), Jan 10 : Union Steel Minister Beni Prasad Verma on Monday  attacked Samajawadi Party chief Mulayam Singh Yadav alleging he had not only joined hands with former BJP leader Kalyan Singh but also did not ensure that people from minority community were recruited in the state police during the SP government.

"Mulayam Singh Yadav talks about the welfare of Muslims but when thousands of youths were being recruited in the state police during the Samajwadi Party government they were not given jobs", Verma told newspersons here.

 He said Yadav had also joined hands with the main accused in Babri Mosque demolition case Kalyan Singh and went to Etah to campaign for him ... how can such a man be pro-Muslim"? Verma said.

To a question on Yadav announcing that free eduation, medicine and irrigation would be provided if SP is voted to power in UP, Verma retorted that Yadav had been chief minister thrice but did nothing in this regard.. what would he do now?  Accusing BSP and SP of indulging in caste politics, he said people of the state would teach them a lesson and claimed SP nominees would lose their deposits this time.

The Congress leader also lashed out at Chief Minister Mayawati and BJP saying that while the former is dismissing ministers on corruption charges after running the government for full five years with them, the latter has been giving them entry into its fold.

"BJP leader L.K Advani should now take out another rath yatra and collect all the corrupt leaders and make them contest the elections from his party", Verma said in a sarcastic tone.

The union minister also charged SP leader Azam Khan with misguiding Muslims on reservation issue by terming it as inadequate and said once Congress formed a majority government at the Centre it would enhance the Muslim quota.

On the occasion, former state minority commission chariman and ex-BSP MLC Gyasuddin Kidwai, who resigned from the ruling party yesteday, joined Congress.