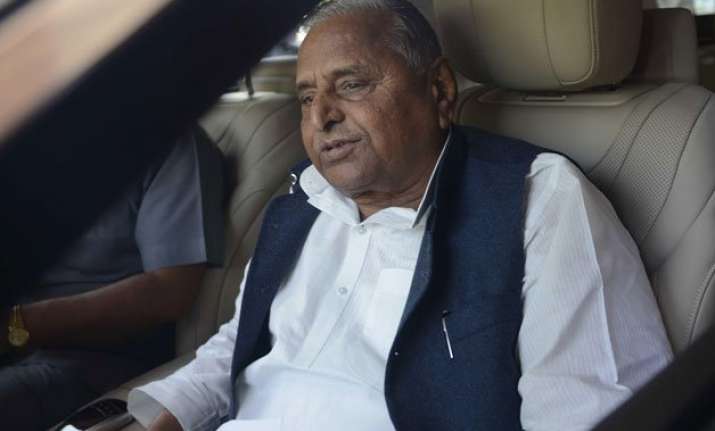 Lucknow: Samajwadi Party chief Mulayam Singh Yadav's pain over the humiliating defeat in Lok Sabha came to the fore as he told party workers that they poured cold water on his dreams of forming a government at the Centre.
Addressing party workers on the birth anniversary of socialist ideologue Ram Mahohar Lohia here on Monday, the former Union Minister said, "You have let me down in the Lok Sabha polls."
"You have ruined me," Yadav told the party workers after inaugurating a conference hall in the name of Lohia at party headquarters in the state capital.
Samajwadi Party won only five seats out of 80 Lok Sabha seats in 2014 polls. Mulayam, his daughter-in-law Dimple Yadav, nephews Dharmendra Yadav and Akshay Yadav and grand nephew Tej Pratap Yadav had won the polls.
Apparently angry with interruptions due to raising of slogans by party workers, Yadav donning the role of a teacher, said that 'sycophants' are aplenty in the party and he did not like such 'indiscipline'.
"You all should not raise slogans, I have earlier also told you. If you like anything you all can clap," Yadav said.
Asking the party workers to accept the challenge of forming a government in the state again, Yadav said that if party could not succeed in it, they would have to 'suffer a lot'.
Asking party workers to remain alert to the propaganda of opposition parties, Yadav said everyone would like to weaken the party by attacking it.
"The alternative of BJP in UP is not Congress but SP only. It is the biggest party and only it could fight with the BJP," Yadav said.
He also asked party workers to read party's constitution and its manifesto.
"You all should read the party's constitution and manifesto of 2012 Assembly polls. You should tell people what Samajwadi Party government has done and fulfilled all the promises it had made," Yadav said.