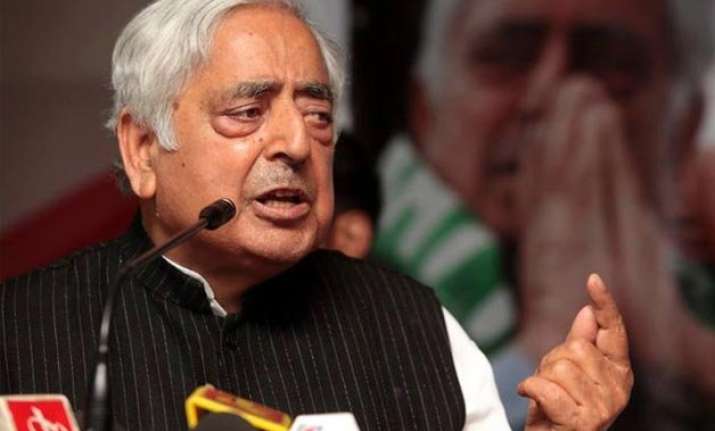 New Delhi: Hitting out at the Prime Minister Narendra Modi for failure to rein in Jammu and Kashmir Chief Minister Mufti Sayeed over Pro-Pak stance, Congress on Saturday said that twin attacks were the direct fall out of Mufti playing footsie with Pakistan, separatist and militants.
"The two consecutive attack by the militants- first in Kathua yesterday and today in Samba- is the direct fall out of Chief Minister playing footsie with Pakistan, separatist and militants and the failure of Prime Minister Narendra Modi in reining in Mufti", Congress Legislature Party (CLP) leader, Nawang Rigzin Jora told reporters here.
"Emboldened by his statement immediately after swearing in where he thanked Pakistan, separatist and Hurriyat, the militants are now striking at will", Jora said.
"The BJP which had all along claimed to be the sole guardian of national interest "needing no lesson from anybody" as claimed by Prime Minister in the parliament recently, watches haplessly and helplessly", he said.
Jora also warned that a prolonged 'confused policy' on the part of state government could revive extremism in Jammu and Kashmir.
"If this confused policy of the PDP-BJP government is allowed to be further confounded, the people of the state will have to prepare themselves to witness revival of terrorism in the state once again", he said.
    Jora exhorted that all the gains of the past 12 years under PDP-Congress and NC-Congress regimes cannot be allowed to go down the drain when people of the state had reaped rich peace dividends in terms of economic prosperity and accelerated development activities thanks to former Prime Minister Manmohan Singh's reconstruction package.
Former Minister accused BJP led NDA government at centre of lacking a coherent policy with regard to Pakistan and handling of separatist and militant in J&K.
Jora said "the NDA stand at best can be described as swinging from one end of the pendulum to the other end. One moment, there is bonhomie with PM Modi inviting Pakistan PM Nawaz Sharif for swearing in ceremony followed by exchange of gifts of shawl and sari between the two leaders to be followed by suspension of talks between the foreign secretaries of two countries on the lame excuse of Hurriyat leaders meeting Pakistan High Commissioner".