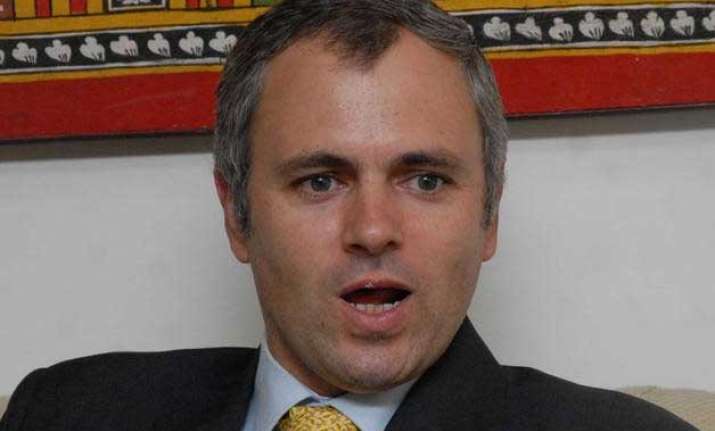 Jammu: Opposition National Conference today accused Chief Minister Mufti Mohammed Sayeed of deliberately triggering a controversy by his remarks giving credit of successful polls to Pakistan and Hurriyat to avoid discussion on agenda for alliance government formulated by them.  
"You (Mufti Mohmmad Sayeed) did not do any mistake. You made that statement after much of thinking, deliberately, before the press, because you did not wanted that people should discuss CMP," NC working President Omar Abdullah said in Legislative Assembly today.
"When you (Mufti Sayeed) released the agenda for alliance government...you gave a statement...Most of the people were surprised...I thought he does not make any such statements, which he doesn't think several times. But what happened that Mufti sahib gave such a statement concerning elections, and made BJP angry," he said.
Omar alleged that the CM never wanted people to discuss that how this alliance was forged between BJP and PDP.  "You deliberately created that row, that we were forced not to talk about CMP nor alliance. Created a row and all were engaged in giving out their statements whether Paksitan has its hand in successful elections or not. Whether Geelani sahib helped you or not, and CMP—your agenda for alliance was lost in that commotion," he added.
Hitting out PDP for double standards, Omar said "People trust us on track record and credibility. On that you have got the power and promised them to come to their expectation. I want to know from you, on Governor's address and CMP, why should people trust that."
Blaming PDP of a U-turn, Omar said they changed their stance within few months. "You have no credibility. You have formed the government with the people against whom you raised fear psychosis among people during elections," he added.  The former Chief Minister further said that Mehbooba Mufti in an interview had said about no to truck with BJP and try to keep faith of people with their agenda.
"For this alliance, you have left the people as well as your agenda. One of the statement can be true both cannot be true. Have BJP and RSS become less communal".  "Has their role changed. Has there talks changed and have their designs changed. Have you suddenly forgotten the killings of 2002. When Mufti sahib will reply, we want to hear from you. Whether in 2002 what happened was wrong? was Babri Musjid demolition right or wrong? Was Statement of BJP leader on mosque right do you agree with me", he said.  "We have not lost because when havn't undertake any development. We did a lot. But only thing is that we could not understand the emotions of the people.
Questioning the alliance with party who has divisive agenda, Omar said "BJP leader raked up Ramzada remarks. What type of alliance what ideology? I want to seek answers from you".
Blaming PDP and BJP for polarisation for coming to power, Omar said "It means that while BJP has been successful here by polarizing the situation, you (PDP) have won there (Valley) be creating fear about it and the RSS."
Quoting statments of Mufti, Mehbooba and Karra, Omar said "You used BJP during elections saying that we (NC) will form government with them and that you have to stop them...You said that you have to save the state from those people as their ideology and the intentions are not good".  
Taking dig at CM, Omar said "Mufti Sahib you had yourself said in Pulwama on November 18 that while RSS was resorting to poisonous rhetoric, BJP was trying to divide the state by resorting to communal polarization."
Similarly, your leader (Now MP) Tariq Hamid Qarra while addressing a rally in Dooru was quoted as saying that poll boycott by people was going to benefit only the NC-BJP alliance and by voting for PDP, you can stop it. The only way to keep BJP out is to vote PDP...vote PDP to defeat the nefarious designs of BJP and the RSS. What has happened to that statement?
Omar also hit out at Mehbooba's public speech at Kupwara on November 13, in which she was quoted as saying "we won't have any truck with BJP...their agenda is very divisive. They want to pit Gujjar against Pahari, Jammu against Kashmir, Muslim Kashmir against Hindu India. she gave similar statements in a newspaper.