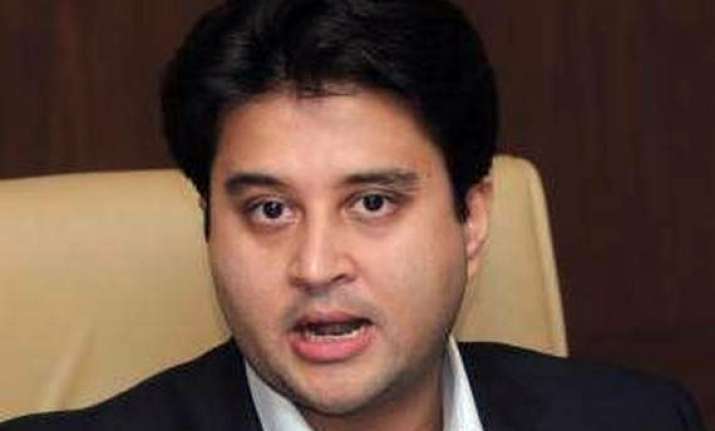 Tikamgarh (MP), May 23: Union Minister of State for Energy (Independent Charge), Jyotiraditya Scindia has accused the Madhya Pradesh government of misleading people by describing Centre's Rajiv Gandhi Rural Electrification Scheme as Atal Jyoti Yojna.
"The state government is misleading people by describing Rajiv Gandhi Rural Electrification scheme as Atal Jyoti Yojna," Scindia alleged here last night after laying the foundation stone of the Centre's ambitious rural electrification scheme.
Under the scheme, the Centre has sanctioned Rs 2,850 crore for setting up power distribution network and for establishing new power stations in rural areas in all the districts of the state.
Of this, Rs 56 crore have been allotted to Tikamgarh district for the purpose, the Minister said, adding, under the scheme, single-point power connection will be provided to 45,000 BPL families in the district.
Referring to Assembly polls due later this year in the state, Scindia urged the people to oust BJP from power as it failed to fulfil large number of promises made on various occasions.
"This government has no right to remain in power as it has not fulfilled promises made to the people," he said. 
Under the Bundelkhand package also huge amount of money was provided, but instead of ensuring development of the backward region, major part of the money is pocketed by the ministers and bureaucrats, Scindia alleged.  
The Minister also accused state Chief Minister Shivraj Singh Chouhan of protecting corrupt ministers as he was not taking any action even as Lokayukta cases were pending against over a dozen ministers.
Referring to crime against women, he said that out of the total cases of atrocities against females in the
country, 10 per cent were from Madhya Pradesh alone.