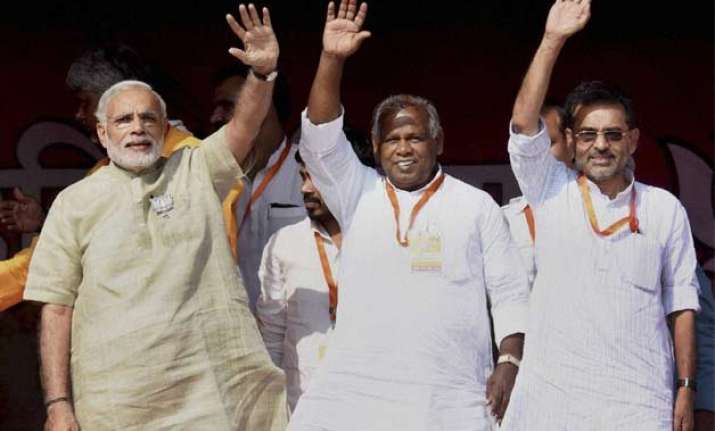 Chhapra/Nalanda/Patna: Taking on rivals Nitish Kumar and Lalu Prasad on their home turfs, Prime Minister Narendra Modi today painted them as leaders with regressive agenda with "18th century mindset", attacking the Bihar Chief Minister over the "tantrik" controversy and said the RJD chief was leading "Rashtriya Jadu Tona" party.
In a string of poll rallies, Modi projected BJP's six-point programme for state's development as an alternative to the grand alliance of JD(U), RJD and the Congres.
Three phases remain for the Bihar polls on October 28, November one and five.
The Prime Minister also made a strong rebuttal of of the attempts by the Opposition to paint BJP as anti-reservation, saying it was a "bundle of lies" and promised "no one can even touch" the provisions made with the efforts of Dalit icon BR Ambedkar for the upliftment of the deprived classes.
Kumar yesterday courted controversy as a video of his meeting a 'tantrik' went viral in which the tantrik is heard asking JD(U) leader why he had teamed up with Prasad, uttering
"Nitish Zindabad and Lalu Murdabad.".
The video provided fresh ammunition to his BJP, which claimed that he was resorting to occult to get rid of foe-turned-friend Lalu.
Taking a jibe at the grand alliance over it in Nalanda, the home truf of Kumar, Modi said so far he knew only three players in Mahagatbandhan Bada Bhai Lalu, Chhota Bhai Nitish and Madam Sonia Gandhi.
"But for the first time I came to know there is also a fourth player, a tantrik. Now there are four players in this alliance of grand opportunism."
Wondering whether such a "farce" can be allowed to go on with democracy, he asked the youths in Nalanda, the home turf of Kumar, whether Bihar needs such "tantra-mantra (occult practices" to get rid of its problems.
"Can a Bihar of 21st century be made with those carrying forth the thinking of 18th century. Bihar needs to be freed from this mindset of 18th century. We do not need jantar Mantar, we need computers. Our youths should have laptops in their hand and no taaveej," Modi said alleging that those who were in power did nothing to develop the region.
Mocking the RJD chief in his once pocketborough Chhapra, Modi advised him to rename his party as "Rashtriya Jadu Tona Party" and become the country's biggest 'tantrik".' Ridiculing Lalu's election meeting barbs at him, Modi said, "Laluji you are free to sacrifice black or white pigeon or blow chilly smoke. If you have to do this rename your party Rashtriya Janta Dal as Rashtriya Jadu Tona Party (party of occult practices) and being the head of the party, you will be the biggest 'tantrik' in the world."
Accusing Lalu and Nitish of spreading the "poison" of caste politics, he said that he is being targetted by them as they have not been able to digest how the son hailing from an extremely backward caste became the Prime Minister.
Blaming "Bade bhaai" (Lalu) and "Chhote Bhaai" (Nitish Kumar) for problems plaguing the state, Modi also hit back at their "Bihari versus Bahari (Bihari versus outsider)" barb to attack BJP, which is fighting the polls under the leadership of Modi and Amit Shah.
In remarks laced with sarcasm, Modi said he wants to ask from the "very respectable democrat (param adarniya loktantrik) Nitish ji and the "biggest occult practitioner (tantrik) Lalu ji who made the Bihar youths outsiders by forcing them out of the state in search of livelihood.
"People of Bihar want to know who made the youths of Bihar outsiders (Bahari). Who pushed my youths of Bihar outside. They destroyed two generations of youths in Bihar in last 25 years," Modi said amid renewed attempts by the BJP to woo youth voters in Bihar, which it expects will cast their ballot beyond the caste and community lines.
"We do not want the Bihar youths to become outsiders. They are the destiny makers of the state," he added.
Projecting his modest background of a tea-seller, Modi attacked the RJD chief for allegedly threatening a mike operator to throw him on ground during a rally in Gaya.
"So far you have not come to power and you are talking of throwing the children of the poor on the ground. The mikewallah may be one individual for you. For me he belongs to my community. Will you torture the children of the poor like this? Will you thrown them on the ground." Modi also stated that some railway officers used to bash up tea sellers earlier.
BJP has of late been projecting Modi as the first PM on his own strength from EBC category. BJP is banking big on EBCs in this election in Bihar.
Asking people to "punish" those, who misruled Bihar for 25 years, he asked the electorate to wipe out such leaders from the political landscape of Bihar.
Modi said that while leaders of NDA talk about issues of development, those of the grand alliance keep their focus only on him.
"They are only shouting Modi-Modi. Modi did this, Modi did that. Modi is like this, Modi is like that. Modi is what he is but people of the country have blessed him."
"There is a reason. They have been doing the politics of forward versus backward from last thirty years and dreaming of becoming Prime Minister. They were carrying this poison of casteism all along. And all of sudden they see an EBC has become Prime Minister without any such ploy.
"Their act of spreading the poison of caste did not work. They are not being able to digest how could a tea-seller from the EBC become Prime Minister. That is why Lalu is abusing me day and night," he said.