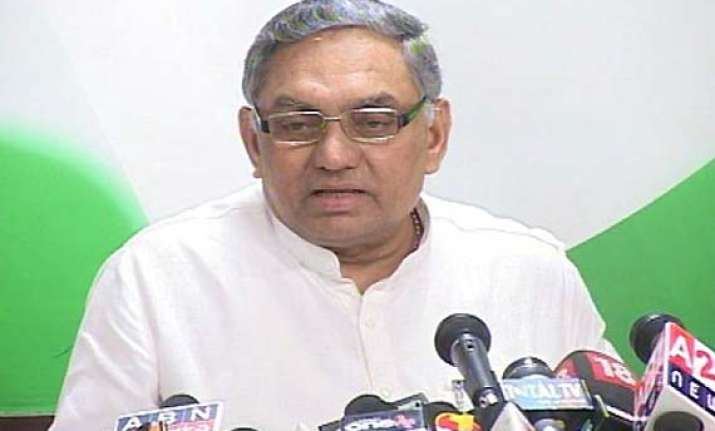 New Delhi, Dec 15: Stung by his attack on Sonia Gandhi and Rahul, Congress today charged Narendra Modi with talking the language of anti-social elements as he was "losing ground fast".
"The way the Chief Minister is talking of mental balance and imbalance shows that he has become desperate.... And the reason for that trouble is that he is losing ground fast," party general secretary Janardan Dwivedi told reporters.
The party asked its workers not to get provoked by Gujarat Chief Minister's words and maintain peace.
With the first phase of polling in Gujarat over, Dwivedi who is also Congress media department chairman, said that the atmosphere in the state is "not favourable" to Modi and that is why he has been using the "language of anti-social elements".
"Modi is using a language which is used by anti-social elements in films, villages and towns.... But I am not saying that he is anti-social element. The language he is using needs to be denounced," he said.
Apparently referring to Modi's remarks that the Congress could not utilise Amitabh Bachchan appropriately as has been done by him, Dwivedi said such statements do not speak of "healthy mindset".
Senior Congress leader Motilal Vora was also present during the interaction.
Modi had accused Sonia Gandhi of spreading a lie after the Congress president claimed earlier in the day that 'Dial 108' emergency service was a project of the Centre.
"Madam Sonia spreads a lie.... Have you got so scared of losing elections? Have you got so depressed? Behan Soniaben, I bet you have lost your mental balance," he said in Gujarat.
The CM also attacked Rahul Gandhi.
"Rahul baba, if your family members have gone to jail in the freedom struggle, we appreciate it. But you cannot kill democracy with your family politics. Soniaji has used the CBI to put innocent people of Gujarat in jail," he had said.