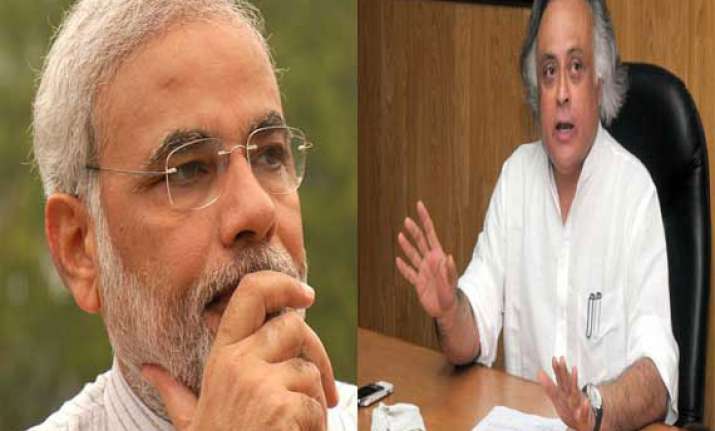 Dhanbad (Jharkhand): Union Minister Jairam Ramesh today accused BJP's prime ministerial candidate Narendra Modi of never speaking truth.
"I would not comment on any allegations levelled by Modi as he never speaks truth," the Union Rural Development Minister said at a press conference here. Rejecting to BJP's claim that there was a Modi-wave in Jharkhand, Ramesh said, "Modi-wave nahin hai, Modi-jahar hai (there is no Modi wave, there is a poisonous wave)."
Stating that Congress had entered the elections on an development plank, he said, "Several states had developed with central contributions and schemes."
Asked to comment on Congress leader Shashi Tharoor's statement that there was no vacancy for Priyanka Gandhi in Congress, Ramesh said, "Of course there is no vacancy as Sonia Gandhi is the president and Rahul Gandhi is the vice-president of the party."
"However, she (Priyanka Gandhi) is playing a major role in deciding policy matters of the elections and will campaign in Raebareli and Amethi. On her direction, 40 per cent of party candidates are below 50 years of age," he said.  Ramesh claimed the results of the Lok Sabha elections would also decide the political course of Jharkhand.  "The election results will clearly show what type of political change the people of the state want," he said.
Ramesh appreciated the 70 per cent polling recorded in Singhbhum Lok Sabha seat where the Saranda forest is situated, saying it showed how development works in the villages near Saranda had made a difference.
Accusing the BJP and its sitting MPs of being responsible for the backwardness of Jharkhand, he said while BJP ruled the state for eight and half years, its MPs never raised issues pertaining to Jharkhand in Parliament.
Earlier in the day, Ramesh, JPCC president Sukhdeo Bhagat and Dhanbad Congress candidate Ajay Dubey went on a 20 km road show from Putki to Dhanbad.