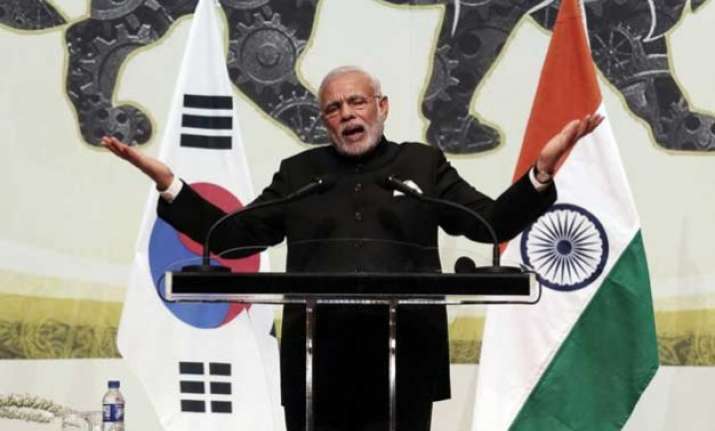 Prime Minster Narendra Modi, who is known for reviving ancient connections with visiting foreign country, has yet again proved his unique capability by highlighting South Korea's link with Ayodhya, the birth place of Lord Rama. The PM is visiting South Korea in his last leg of three nation official tour.
It is worth a mention that the ruling Bhartiya Janta Party often invoke Lord Rama in India to gain political mileage in the country. This is for the very first time Modi has invoked the lord to strengthen ties with a foreign nation.
As per the history, around 2000 years ago, Indian princess - Suriratna from Ayodhya travelled to South Korea and married a Korean King - Kim Suro.
Modi said that the historical connection, which established hundreds of years ago, is still prominent in both the countries.
Suriratna- known as Queen Huh from the Gaya dynasty, travelled for three months by sea, following a divine signal by her father, to marry the founder of Karak kingdom.
At present, six million Koreans with surnames Kim and Huh from Gimhae, and Lee from Incheon, trace their ancestry back to the royal Indo-Korean couple.
Interestingly, Queen Huh's tomb in South Korea has a pagoda in frontage, which is built with stones and believed to have brought from Ayodhya.
On the other hand, a monument has been built in memory of Hwang Huh on the picturesque banks of river Saryu in Ayodhya. Built in Korean tradition, the monument has a three-metre high stone weighing 7,500 kg.
Revival of this unique cultural connection between the two countries, while Indian Première Narendra Modi is on visit to South Korea, can help forge stronger diplomatic as well as economic relations.
Noticeably, Union IT minister Ravi Shankar Prasad, post his visit to South Korea in October last year, wrote to the Prime minister to revive this ancient cultural bond with Korea. He suggested the prime minister to upgrade the existing memorial to an elegant Korean-style structure.
The proposed upgradation of the monument could attract nearly 1 lakh Korean tourists every year, including Buddhists, for whom it is a pilgrimage.
If the said project gets implemented, the holy city - Ayodhya, is expected to find its place on India's map as a historical destination.