Follow us on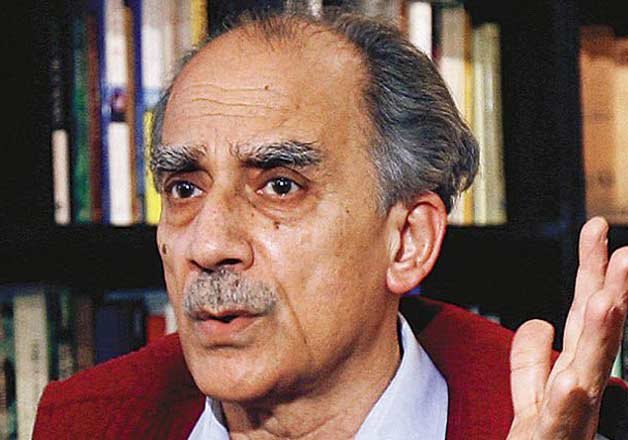 New Delhi: Former Union minister Arun Shourie has accused BJP's supporters of having put him under severe abuse on social media for his criticism of  Prime Minister Narendra Modi. Shourie, a one-time admirer of Modi, also said even his disabled son wast been spared by the abusers.
Shourie said, "If you gave me an opportunity to read the kind of abuse that has been hurled at me and my handicapped son, you will be horrified," Shourie told an English News Channel.
Shourie alleged that several of the social media influencers' are abusive on Twitter, and despite their continuing  abuse, the PM followed them on the micro-blogging site.
"They wrote, 'Iska mental son hai, woh aur bhi mental banega and these damned fools are followed by the PM on the social media," he said.
Meanwhile, the twitterati condemned the alleged attack on Shourie and his son on the micro-blogging site. "Really distressed at the kind of abuses being hurled at Arun Shourie. Those doing so are damning the cause they think they are supporting," Madhu Kishwar wrote on Twitter.
The BJP, however, distanced itself from the allegations and stressed that the party as well as the prime minister had strictly issued guidelines to those using social media platforms in support of the party that abusive language or meaningless trolling was not appreciated nor condoned by the party.
"Narendra Modi, while interacting with the BJP supporters, very clearly told them that they have to mind their language. Social media is not a platform for spreading hatred," BJP leader Vinay Sahasrabuddhe said, referring to the PM's meeting with 150 'social media influencers' in July this year.
Shourie, a minister in the Vajpayee government, who is no longer with the party, on Sunday held Modi, Shah, and Jaitley responsible for Bihar Polls debacle.
He allged Shah and Jaitley of "fomenting" a coalition against Modi by forcing the other opposition parties, which commanding over 69 per cent of vote, to get into an alliance.
He said that the BJP came to power at the height of Modi's popularity with merely 31 per cent votes.
"It is Modi, the master strategist (Shah) and Jaitley," he told PTI when asked who should be held responsible for the defeat. "There is no fourth person in the party or the government."
Asked what went wrong with the party's Bihar campaign, he said, "everything".
Elaborating his comments, he said "a Modi-centric campaign, a divisive campaign and the campaign lacked credibility as promises of the past have not been kept".