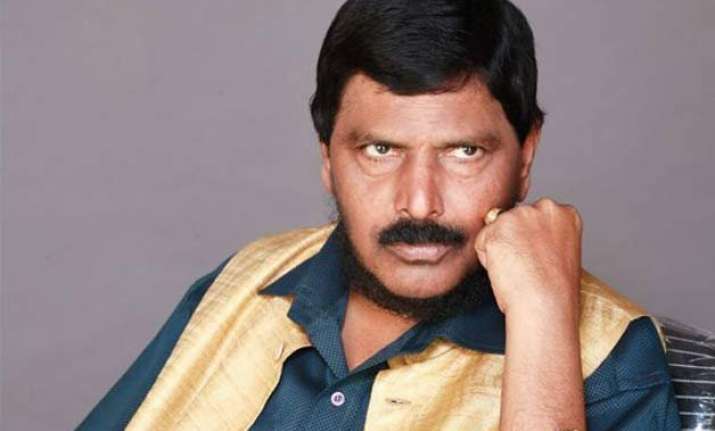 Mumbai: The Republican Party of India (RPI), which contested Lok Sabha and Maharashtra Assembly polls last year as an NDA constituent, will hold a conclave here tomorrow to "remind" BJP of its promise of taking the smaller allies on board, ahead of likely expansion of Narendra Modi cabinet next week.
"I had been promised of a ministerial berth in the Central government before I decided to join hands with BJP ahead of Lok Sabha polls. Despite the expansion of cabinet on two occasions (in the past), I have still not been given accommodation (in Modi cabinet)," Athawale told reporters here.
The dalit leader said the conclave will be held at Bandra-Kurla Complex (BKC) ground, which will be attended by the party volunteers from across the country and Bollywood personalities.
This is our way of showing the strength of the party, he added.
Stressing that all constituents of 'Mahayuti' (grand alliance) had played a key role in defeating the Congress and NCP combine and bringing to power the BJP government, Athawale said the smaller allies were now given a raw deal.
"The smaller allies are now being sidelined. They should get a place in the ministry. Besides, the BJP should also give us an MLC seat (in Maharashtra), along with a ministerial berth in the state government as we had been assured of it in writing by the BJP during the Assembly polls. Not only RPI, even other allies should (also) get ministerial berths," he demanded.
When asked to comment on the BJP MP Giriraj Singh's racist remarks against Congress president Sonia Gandhi, Athawale said, "Though BJP is our ally, we can never let anybody make racist comments against women. She (Gandhi) maybe from an opposition party, but she should have been spoken about with respect."
Athawale's party does not have even a single MLA in 288-member in Maharashtra Assembly.