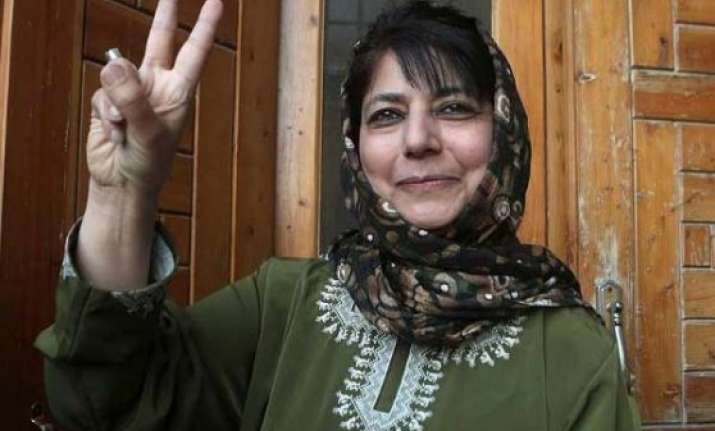 Srinagar: A week after the Jammu and Kashmir delivered a fractured mandate, Peoples Democratic Party (PDP) president Mehbooba Mufti will today meet Governor NN Vohra to discuss the 'possibilities' of government-formation.
Vohra had on Friday invited Mehbooba and BJP's state unit president Jugal Kishore Sharma for separate meetings to hold discussion on formation of government in the state.
So far no single party or a group of parties, has staked claim for formation of the government in the state.
Meanwhile, sources hinted at the possibility of PDP and BJP coming together to form a 'stable' government with latter agreeing on the name of Mufti Mohammad Sayeed for the top post in the state. Sources also revealed that the post of Deputy CM could go to the BJP with Nirmal Singh leading the race for the job.
This came days after reports suggested that PDP patron Mufti Muhammad Sayeed asked all his party MLAs individually to seek public feedback from their constituents on forging alliance with the BJP.
Earlier, there were reports that PDP is planning to cobble a 'grand alliance' with arch rivals NC and Congress to form a 'stable' government in the state.
Yesterday, India TV had reported that the National Conference (NC) had called a 'secret' meeting of its all newly elected 15 MLAs in Srinagar where it was decided that the party will oppose the BJP and will also not accept any Hindu CM. Party general secretary, Ali Muhammad Sagar, who had chaired the meet, said that the legislators have decided to support the PDP in a bid to keep BJP out of power.
PDP, with 28 MLAs, is presently the largest party in 87-member House followed by BJP's 25 legislators. The NC and Congress are having 15 and 12 MLAs, respectively.
An elected government has to be in place by 19 January, failing which Governor's rule will be imposed in the state.