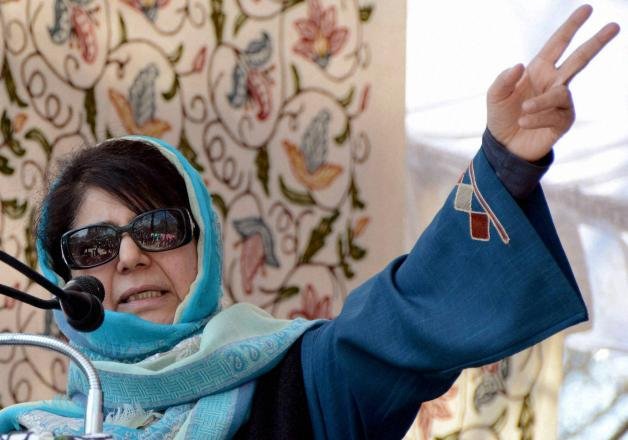 Srinagar: Maintaining suspense over government formation in Jammu and Kashmir, PDP chief Mehbooba Mufti said that she will take a decision while keeping in mind the 'dignity, honour and welfare' of the people of the state.
"If I take a step, it is not that I want to be a cut above. I want that if we form the government, its benefit should reach the people here," she said while addressing party workers at the launch of PDP's membership drive in Anantnag district of south Kashmir on Sunday.
"It is not that (I want) I will become a Chief Minister, there would be ministers and we will have a fleet of cars with four flags. But, when the people of the state, its youth or its regions do not reap any benefits of that (government), and when we cannot play a role in bringing peace here, then tell me what will I do with that chair," she added.
Jammu and Kashmir has been under Governor's Rule since January 8, imposed a day after Mehbooba's father and then CM Mufti Mohammad Sayeed passed away suddenly.
Since then, Mehbooba, whose party is the largest with 27 MLAs in the 87-member House, has been maintaining suspense over the government formation. PDP and 25-member BJP had run a 10-month coalition government before Sayeed's demise.
"Mufti sahib used to tell me that he has not done anything for the workers and it is your (Mehbooba's) responsibility now. You trusted Mufti sahib blindly, but trust me with open eyes. Whatever decision we take, it will not be for personal interest...but it cannot be just for the workers only. That (decision) will be for the nation. We will take that decision in which there is dignity, honour and welfare for us (people of the state)," she said.
"The main challenge for my party is not the National Conference or power. It is to ensure continuing the legacy of my late father who would tell me towards the end of his life that he felt sorry for having done very little for the workers who trusted and relentlessly supported him. My challenge is that," she further said.
"If I choose to assume power, it would have to be for peace. It would have to be for friendly relations between India and Pakistan which is essential for peace in Jammu and Kashmir," she added.
Noting that 'these things are presently threatened', she said, "Youth are getting disgruntled with the situation and some of them are taking to the gun. This is a serious development."
Citing the recent destruction of the Entrepreneurship Development Institute in a gunfight between militants and security forces, Mehbooba said that there was a 'legacy that is being threatened and destroyed'.
There is intense speculations in Kashmir that a PDP-BJP coalition government would assume power in the state after the Union Budget. Reports also say that the Budget is likely to contain a financial package for the state, 2 smart cities and financial assistance for buying back two hydro power projects from the NHPC.
With Agency Inputs