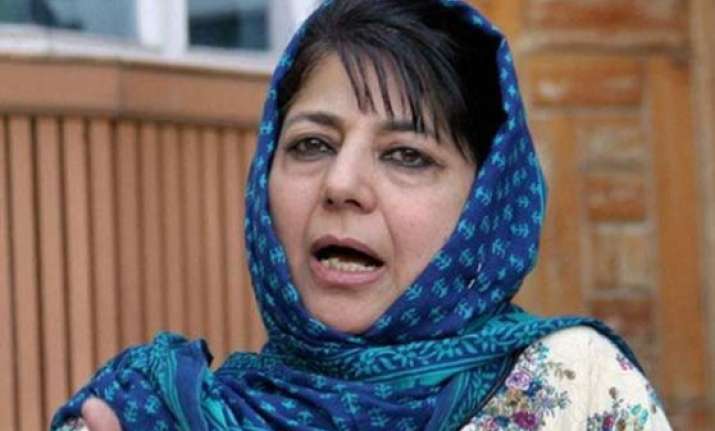 Srinagar: Jammu and Kashmir People's Democratic Party chief Mehbooba Mufti has made a bizarre statement by blaming the media coverage of high voter turnout in Kashmir valley for the terrorist attack on an army camp in Uri.
Speaking to mediapersons on Friday, Mehbooba Mufti said: "I condemn the way the media is overplaying the voter turnout. I hold media responsible for today's attack. I don't know why you people in the media are always talking about poll percentage."
"The media has been highlighting the voters turnout like mad people. The voters want good governance, they are sick and tired of the present government," Mufti said.
"Everywhere people are voting because of anti-incumbency, but the way you people are overplaying, you make people scapegoats, you make people vulnerable for such attacks", the PDP leader said.
Condemning the terrorist attacks, she said: "Violence is a zero-sum game which does not solve any problem, but gives rise to more complexities. The perpetrators of violence must realize that it is not through gun and grenade that political problems can be resolved."
"Dialogue and reconciliation are the only options for making headway in finding a solution. I express deep grief at the loss of lives of soldiers and policemen."
In New Delhi, BJP leader Dr Subramanian Swamy took a jibe at Mehbooba Mufti and said the high voter turnout in Kashmir is a matter for celebration, and the PDP chief should now tell the Pakistanis to contain their jealousies.
Swamy said the media has not told any lies as far as the voter turnout in the state is concerned.
"They have not exaggerated; they have given the exact figures which the Election Commission gave. What she is saying that Pakistan will get jealous if we beat our drums about it? Why shouldn't we? This is our country," Swamy said.
"We have been saying all these years that Kashmiri people are suppressed. In the secular government of UPA, only 30 percent voted. In this Hindu government of BJP, more than 70 percent have voted. It's a matter for celebration and Mehbooba should now tell the Pakistanis to contain their jealousies," he added.