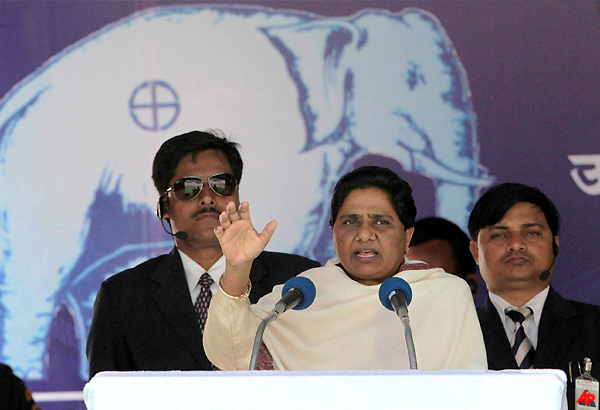 Allahabad, Feb 10: Uttar Pradesh chief minister Mayawati has asked her voters to give a befitting reply through ballot over the Election Commission's directive  to cover up all elephant statues throughout the state.

Addressing a rally here, she said :"I am aware that my supporters are unhappy over this step. The elections are an opportunity to give a befitting reply by voting the BSP back to power with a thumping majority."

Facing flak over "tainted" ministers and MLAs, Mayawati admitted that such elements had entered BSP in the previous election but claimed she has got rid of them by fielding only those with a clean image this time.

Attacking Congress, SP and BJP at a rally here, the BSP supremo urged people to ensure that none of these parties is able to form the next government in the state as it would lead to lawlessness and communal tension and create a situation where people will once again start feeling compelled to move to places far away from their homes in search of livelihood.

"We have ensured that only those with clean image get party ticket this time. We are exercising abundant caution as many tainted elements had managed to enter the BSP during the last assembly elections. They even succeeded in winning elections on account of the tremendous following our party enjoys. But their presence harmed our party's reputation", Mayawati said.

"However, none of them, whether they held ministerial positions or were just MLAs, was spared. In course of time, all such elements have been booted out," she said adding that her government has worked for betterment of all sections.

Coming down heavily on the Congress, Mayawati accused the UPA government at the Centre of "discriminating against UP in release of funds for welfare schemes" and dragging its feet over various proposals aimed at ensuring better governance, including carving out of smaller states.

Reacting to Congress leader Rahul Gandhi's allegation that she had lost touch with the masses after assuming power, she said, "I have spent much of my life fighting for justice to the lowest strata of the society.

"The Congress crown prince is unhappy over the fact that now I do not have to run from pillar to post seeking justice for the downtrodden but I can ensure that justice is done from wherever I am."

Interestingly, the BSP supremo, who had been highly critical of Hindu symbolism during her early political times, appeared happy on seeing the turn out at her rally organised in the vicinity of the holy Sangam and said it reminded her of the "Kumbh Mela".

"We are near the Sangam where the Kumbh Mela would be held less than a year from now. But your enthusiastic presence here makes me feel that I am already at the Kumbh Mela. Keep up the spirit on the day of voting and ensure our victory," she said.