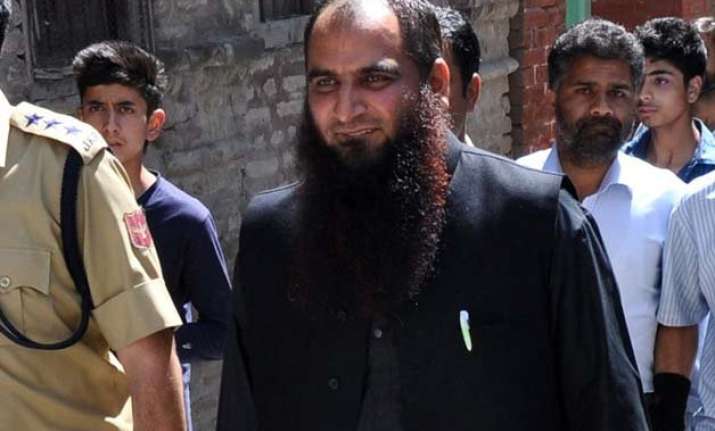 New Delhi: Separatist leader Masarat Alam Bhat is fast emerging as a successor to the All Parties Hurriyat Conference(G) chief Syed Ali Shah Geelani (86) who is also a hardliner Kashmiri separatist. 
Masarat's party -- Muslim League party -- is at present a part of Hurriyat Conference. He is also the general secretary of Geelani led APHC(G). 
If Intelligence sources are to be believed, Masarat may find favours from Hurriyat Conference supporters, who were in recent past hard-pressed to find a political successor to Geelani.
Last month, when the state government allowed Masarat to walk out from the jail, there was a wild talk of him replacing Geelani.
Many of Masarat supporters believe that his release gave a hope for the future of separatist leadership in Kashmir. They also said that Masarat is a new-generation separatist leader who became popular among the masses.
Reports, however, suggested that Geelani is promoting Mohammad Ashraf Sahrai, a low-profile second-rung leader in his Tehreek-e-Hurriyat, but latterAsharaf lacks charisma and magnet. 
Masarat, who completed his schooling from a missionary school and graduate from SP College, Alam hails from a secure middle-class background. He was a member of the Hizbullah militant group, when he first went to jail in 1990. He was released in November 1991. From 1990 to 2005, Alam was served with as many as nine detention orders. He was incarcerated in various jails across the state.
He played a significant role in the 2010 Kashmir stone pelting rallies. Over 110 people, mostly young students, died during a massive protest. 
At present, Alam faces around 15 pending cases which included those registered under section 120 and 121 of Ranbir Penal Code (waging war against the country) and the Unlawful Activities (Prevention) Act.
On Thursday (April 16), he was put under house arrest in Srinagar. A day earlier, he had raised pro-Pakistan slogans and waved Pakistani flags at a rally which was addressed by Geelani. On April 17, Masarat was arrested by the state police hours before his proposed plan to visit the south Kashmir's Tral town where a civilian was killed in firing by the security forces three days ago. A local court here sent him to seven-day police custody.