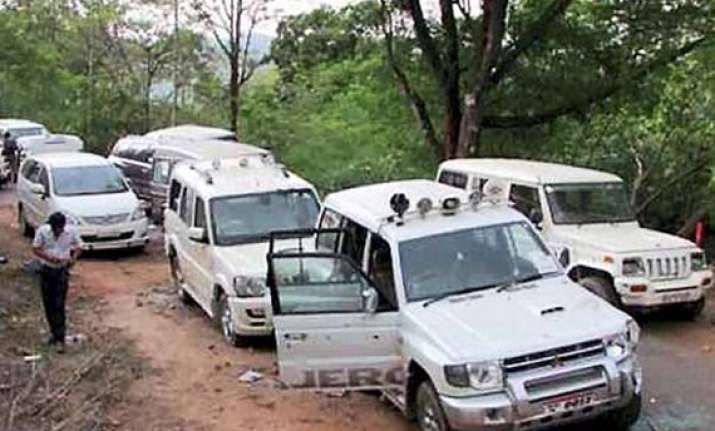 New Delhi, May 28: After a convoy of Congress leaders in Chhattisgarh's Bastar district on Saturday were attacked, killing 27 people besides leaving 36 others injured, Maoists have claimed responsibility for it.
The four-page note which is in Teugu along with an audio clipping to the media says that their prime targets were Congress leaders Mahendra Karma, Nand Kumar Patel and V C Shukla. The note also said that they regretted teh death of "innocents" during the attack.
While Karma and Patel died in the ambush, Shukla has been critical in a Gurgaon hospital.
Further explaining the attack, the note, sent by a Maoist spokesperson from the Dandakaranya region in Chhattisgarh, says that a People's Liberation Guerrilla Army ( PLGA) detachment carried out the attack on the Congress convoy.
The note also mentioned the reason for the attack on their key targets. It said that Patel who was the chief of the Chhattisgarh Congress, was targeted since he had approved Operation Green Hunt when he was the state's Home Minister. The operation allowed central forces to be a part of anti-Naxal operations.
The note said that Mahendra Karma who was also a former Home Minister, had in 2005 launched the Salwa Judum, an anti-Naxal movement that won him much praise from even the Chief Minister Raman Singh and the attack was punishment for is "misdeeds."
The Maoists have also blamed Singh in their note for his "anti-people policies".
The Maoists also slammed the Prime Minsiter Manmohan Singh, Congress President Sonia Gandhi and BJP chief Rajnath Singh in their note for calling the ambush an attack on democracy.
The note also mentioned certain demands. It listed seven demands which include some old demands.
Highlights of their demands:
•    Operation Green Hunt should end and paramilitary forces be sent back from Dandakaranya. 
•    Laws like the Chhattisgarh Special Public Security Act 2005 (CSPSA) and the Unlawful Activities (Prevention) Act 1967 be scrapped.
•    Unconditional release of an unspecified number of their men who they refer to as "innocent tribals," 
•    Cancellation of deals with corporates "that loot natural resources."