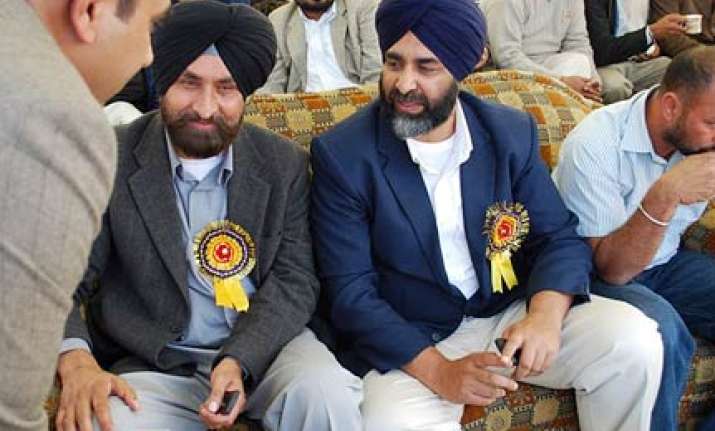 Chandigarh, Oct 12: Punjab's ruling Shiromani Akali Dal tonight suspended Finance Minister Manpreet Singh Badal, who is at loggerheads with Deputy Chief Minister Sukhbir Singh Badal on the Centre's reported conditional loan-waiver offer, from the party on the charge of anti-party activities.
Asked if Manpreet would be dropped from the Council of Ministers, SAD Secretary and spokesman Daljit Singh Cheema told PTI that it was the prerogative of Chief Minister Parkash Singh Badal.
He, however, said further action against the Finance Minister, who is a nephew of Parkash Singh Badal, is likely after October 20 by when SAD expects a reply from Manpreet to the show cause notice delivered at his residence.
Cheema said the party has accepted the recommendation of suspension made earlier in the day by the 5-member Disciplinary Action Committee headed by senior minister Ranjit Singh Brahampura.
"A show cause notice in the form of the recommendation of the Discipplinary Committee has been sent to the residence of the Finance Minister who has been asked to submit his reply by October 20," Cheema added.
The suspension of 48-year-old Manpreet, a four-time MLA from Gidderbaha in Faridkot district, came a day before he was to release documents pertaining to the central debt waiver.
The action also came when Manpreet was stated to be in Delhi for a meeting with Union Finance Minister Pranab Mukherjee.
Manpreet has been in the midst of a row in ruling SAD-BJP alliance after he supported the reported offer of Union Finance Ministry for waiving of a part of the Rs 70,000-crore debt of the state, which mainly arose during the militancy days, but with certain conditions like cutting power subsidies to farmers and levying of user charge in some service sectors.
Sukhbir Singh Badal and a number of other SAD leaders and alliance partner BJP have countered Manpreet saying the state had not received any debt waiver offer in writing.
Manpreet, who is also a member of key Political Affairs Committee (PAC) of SAD, is the party's first minister to have been suspended.
12 ministers were dropped from SAD ministry during the previous rule by the party after SAD Chief Parkash Singh Badal had differences with the senior leader and late SGPC chief Gurcharan Singh Tohra. All those dropped, including Mahesh Inder Singh Grewal and Manjit Singh Calcutta, were loyalists of Tohra.
Even as further action by SAD against Manpreet depends on his reply, party insiders said there were little chances of the Finance Minister making up with the leadership as the current tussle has stretched too far.   The meeting of SAD Disciplinary Action Committee, which had remained inconclusive yesterday and was also slated to meet here again tomorrow, was suddenly advanced to this evening.
"The committee has recommended Manpreet Badal's suspension for indulging in anti-party activities and for his statements made in the media recently. He has been asked to give his reply by October 20 and further asked not to make any statements through the media during the period," DAC member Sukhdev Singh Dhindsa told PTI.
Yesterday, the over three-hour meeting DAC under the chairmanship of cabinet minister Ranjit Singh Brahmpura here had failed to arrive at any conclusion on Manpreet already under fire within the party on his stand on fiscal management and central loan waiver issues.
There had been a growing demand in SAD rank and file that Manpreet be divested of his portfolio ever since the minister allegedly defied the party leadership over the Centre's reported offer of a special loan waiver to Punjab on certain conditions.
Manpreet has been isolated in SAD-BJP alliance with leaders of both the parties attacking his stand on the debt waiver issue.
Shortly after the Finance Minister had made public his stand that he would release all the documents relating to the debt waiver to the media on Wednesday, Local Bodies Minister and senior BJP leader Manoranjan Kalia had at a late night press conference last night accused Manpreet of making false statement and misrepresenting facts.
"The statement of Manpreet is false and incorrect", said Kalia whom Manpreet had met yesterday.
With SAD leaders throwing their weight behind Sukhbir, Manpreet has been pushed to the corner and had reportedly even offered to quit if Chief Minister Parkash Singh Badal wants him to step down.
Punjab Chief Secretary S C Aggarwal had at a recent press conference refuted Manpreet's claims that the Centre had come up with a special term loan waiver scheme for Punjab and said the state government had not received any written offer from the Centre waiving Rs 35,000 crore of the state's debt with certain conditions, including reducing subsidies on power to agriculture sector and levying of user charges in some service areas. PTI