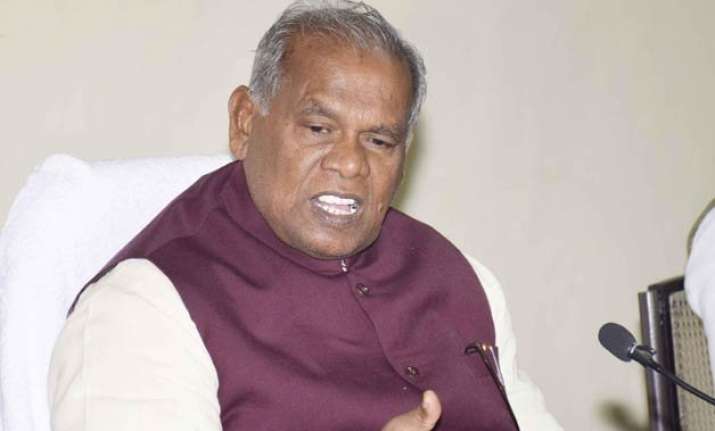 Patna: Former Bihar Chief Minister Jitan Ram Manjhi today described merger of Janata Parivar parties as "maha pralay" (great devastation), and said he and 17 other Bihar MLAs would remain in JD(U) and move Election Commission to retain the party symbol.
The merger of six parties from the erstwhile Janata Parivar—Janata Dal (United), Janata Dal (Secular), Rashtriya Janata Dal, Samajwadi Janata Party, Indian national Lok Dal and Samajwadi Party—"is not a 'maha-milan' (grand merger) but a 'maha-pralay'," Manjhi told reporters.  
"The moment they freeze the JD(U) symbol after merger, we will approach the Election Commission to allow us to remain within JD(U) and allot us the party flag and the 'arrow' symbol of the party," he said.
If needed, the 18 MLAs would move court for the purpose,Manjhi said, adding, there has been a precedent in Subramanian Swamy retaining the Janata Party flag and symbol.  "We have faith in principles of JD(U). They have lost trust in the party and is moving away from it. We will continue to bear flag of original JD(U)," Manjhi said.  
Flanked by disqualified JD(U) MP Jagdish Sharma and Sadhu Yadav, brother-in-law of RJD chief Lalu Prasad, Manjhi alleged that his once mentor Nitish Kumar could go anywhere and join hands with anybody to be in power.  
"Nitish Kumar and Lalu Prasad, who had been enemies of each other for 10 years, joined hands with a view to winning Bihar poll," said Manjhi.
However, the Kumar-Prasad combination would not have much impact in the election as it will be impossible for Prasad to mobilise 'Yadav' votes for Kumar who harmed interest of that caste during his rule, he claimed.
Manjhi claimed the law and order situation under Kumar now "is worse than jungle raj". Kumar had ousted Manjhi from CM's chair and ascended on the seat himself on February 22.  Referring to the murder of a dalit in Sitamarhi and 'atrocities' on 16 families in Kumar's native district Nalanda on charge of not paying power bill, he demanded imposition of President's Rule in the state.
Manjhi alleged that he is being "hounded at the behest of the power" that be in the same way as "supari (contract) killers shadow their targets."
Manjhi, who is eyeing the 22 per cent dalit votes in the state, said he would not ally with any party or individual before the election. "But, after polls we will think about forging ties with like-minded people and parties," he said.  Manjhi met Prime Minister Narendra Modi twice recently and praised him for his concern for Bihar.