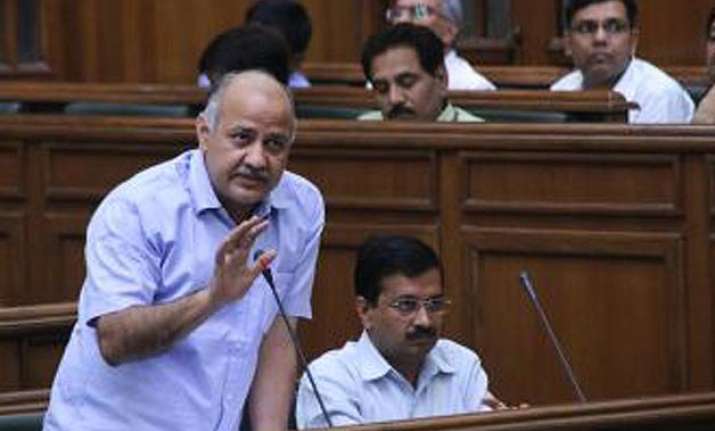 New Delhi: Terming the MHA's notification giving absolute power to Lt Governor as "Talibani", Deputy Chief Minister Manish Sisodia today said the Centre is "afraid" of the Delhi government's fight against corruption and such a notification is "dishonour" of the Constitution.  
Speaking during a Special Assembly Session, Sisodia said the Centre's notification was a "threat" to the existence of Delhi Assembly and that the situation at present was worse than what it was during the British Rule 125 years ago.  
"Everybody... Assembly... elected government are saying that this notification is not right, but they (Centre) are saying we don't have any knowledge about the Constitution," the Deputy Chief Minister said.
"Before coming to power, we knew that the city government does not have power over public order, land and police. Except these three issues, the Assembly has rights over all subjects.  Only those who do not believe in Constitution could have felt the need to bring such a notification. They (Centre) issued a Talibani notification.
"They are afraid of our 100-day work. For the first time, Delhi has got such a chief minister who can confidently say that he will not allow graft in any department," he said.  
Stating that it was not an ego battle but people's fight, Sisodia said, "This notification is similar to imposing President's Rule in Delhi. Centre's notification is not just a threat to the Delhi Assembly, but also the Parliament."
Delhi Assembly today passed a resolution holding as "illegal" Centre's notification giving more powers to the Lt Governor with Chief Minister Arvind Kejriwal blasting the Modi government, terming its move as a prelude to pushing the country towards "dictatorship".
The Assembly also decided to send a copy of the resolution to the President, Lt. Governor, Home Minister, and all the members of the Parliament.