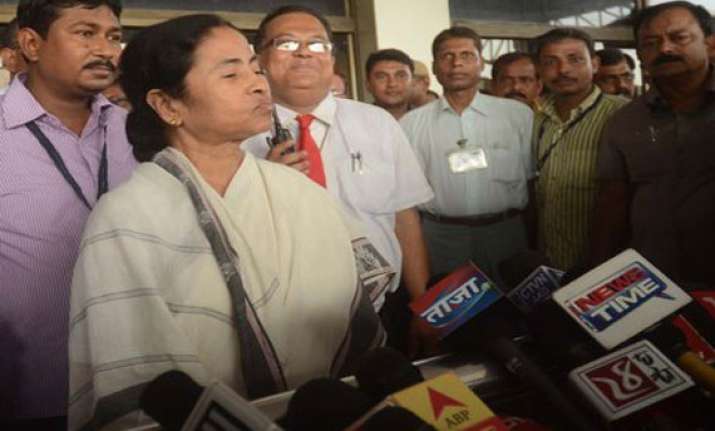 Kolkata, Nov 29: Close on the heels of outburst by a disgruntled West Bengal minister and criticism by a section of media, West Bengal chief minister Mamata Banerjee today said, she did not want to take action, but those criticising her 'would one day go away'.
"Those who are giving us a bad name will go away one day. I believe this. But I am not vindictive. I do not want to take action against anyone. I do not have any relation with those who want to sully the image of Ma, Mati Manush," Banerjee told a meeting here.
Urging industrialists present to invest in the state, she said, a section of the media was engaged in negative publicity out of 'vested interest' and canards were being spread.
"No one can deter me in serving the people," she said and repeated 'Raja chale bazaar kutta bhoke hazaar'.(dogs bark as the king goes in procession) Stating that she had fought for the people and would continue to do so as long as she lived, Banerjee said "I do not need any palace or crores of rupees but will serve the people.
"I am prepared to sacrifice anything for the people, but I cannot sacrifice their interests. It is a government of the people by the people and for the people."
Later talking to reporters at the state secretariat Banerjee claimed that newly appointed agriculture minister Becharam Manna did not face any protest at Singur yesterday.
"There was some jostling as many people came for the Rs 2000 allowance and Rs 2 kg rice being paid to farmers of Singur, who had unwillingly parted with their land and not accepted compensation," she said.
Stating that there was two month's delay in the payment of the allowance, she said, this was because the Hooghly district magistrate was on leave as she was critically ill.
She also said, she would not hold a public meeting at Singur tomorrow, but an administrative one at the BDO's office, from where she was once thrown out when she was an opposition leader.
Interestingly, earlier in the day, Justice Katju slammed Mamata for being "increasingly intolerant and whimsical" and asked her to mend her ways.