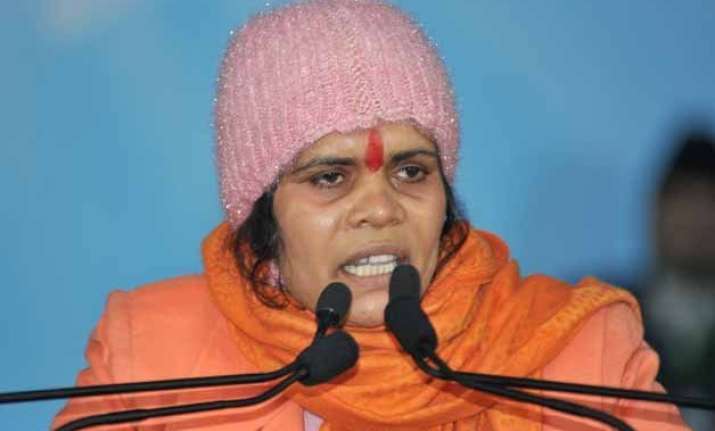 Lucknow/New Delhi: Controversial VHP leader Sadhvi Prachi has sparked yet another row alleging that Mahatma Gandhi was a "British agent", drawing condemnation by the Congress and the SP who said BJP appears to have no control over Hindu groups.
Congress MLAs also tried to move a censure notice in the Uttar Pradesh Assembly against the Sadhvi whose comments came days after former Supreme Court judge and Press Council of India chairman Markandey Katju levelled a similar allegation.
The VHP on its part disapproved of the Sadhvi's remarks, saying someone wearing a saint's dress should abstain from making such comments against national icons.
The Sadhvi also said yesterday that Gandhi's contribution towards independence of the country was "negligible".  "It was only due to sole efforts of Bhagat Singh, Chandra Shekhar Azad, Ram Prashad Bismil and Subhash Chandra Bose that India was freed from the clutches of Britishers," she told reporters at a hotel in Ghaziabad on the occasion of Hindu Dharam Sammelan.
"Gandhian ways of protests and hunger strikes were worthless in achieving freedom," the VHP leader said, adding that Bismil (Ram Prasad) was hanged while Gandhi was busy with his 'Charkha' and spinning cotton.
Justice Katju recently wrote in his blog that Mahatma Gandhi, Father of the Nation, was a British agent.  The Sadhvi also added that those who cannot chant 'Bharat Mata ki Jai' and 'Vandematram', indulge in slaughter of cows and insult our tri-colour are not entitled to live in India.  Yesterday in Bahraich she had said those having more than two children should be barred from casting votes.
"It is a very serious matter...those who have no identity have found one by making such remarks...but a particular political party has no control over sadhus and mahatmas," SP leader and Parliamentary Affairs Minister Azam Khan said in the UP Assembly in a veiled reference to BJP.  Khan said this when Congress members tried to move the censure notice. "It has become some kind of a fashion now to make such remarks," he said.
"There should be some control and legal action against them was necessary."
As Speaker Mata Prasad Pandey rejected their (Congress MLAs) demand and asked them to give prior notice, the members barged into the Well to press for the demand following which Khan spoke on the issue.
Earlier, Pradip Mathur and Anugrah Narain Singh (both from Congress) tried to bring the censure notice, saying there is an attempt to harm the social fabric.
"She (Sadhvi) has tried to become another (Markandey) Katju and should be arrested and there should be a ban on them," they said.
VHP general secretary Champat Rai said that Sadhvi Prachi should not have made the remarks against Mahatma Gandhi, who is revered by the nation for his contribution to the freedom struggle.
"Sadhus should abstain from criticising a great personality like Gandhi as it is against the ethos of Indian traditions. It is not right. It is also not proper to use such language against those who are no more alive.
"We may differ with Gandhi's thoughts, but to doubt his love for the nation and contribution to the freedom struggle is like a sin. Gandhi was a noble man and a great soul. We in the Sangh fondly remember him," Rai said.