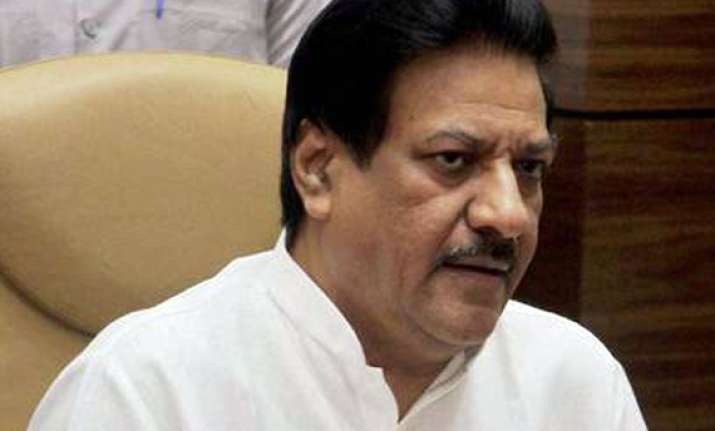 Mumbai, Dec 29: Maharashtra Chief Minister Prithviraj Chavan Fridayvirtually sounded the election bugle asking party workers to prepare themselves for the "political challenges" in the form of the Lok Sabha and assembly polls in 2014 and strengthen the hands of the top leadership.  
"It is important for the party workers to be united and organised so that the political challenges can be successfully tackled. We need to strengthen the hands of our leaders (AICC president) Sonia Gandhi and (general secretary) Rahul Gandhi," Chavan said while speaking at the "Vachan Purti Melava" organised to mark the 127th foundation day of the Congress.
Highlighting the achievements of his government, Chavan said, he had focused on housing, infrastructure, health sectors and taken decisions that benefit the common man.  
"My endeavour has been to ensure that housing is affordable to the common man and hence the government has made it mandatory for developers to reserve 20 per cent of their housing stock for poor people.
"Similarly, Development Control (DC) Rules have been amended for the redevelopment of slums. The Trans-Harbour Link project has gained momentum after the viability gap funding from the Centre. Similarly, 23,000 free surgeries have been performed on poor people free of cost under the Rajiv Gandhi Jeevandayee scheme.
Touching upon the issue of crime against women, Chavan said his government was for setting up fast track courts for the trials of rape cases so that there is no pendency. Women police officials and psychologists would be appointed at every police station to deal with such cases.  
PTI"There should be toll-free numbers for women in distress. We are in talks with the Centre on these matters.  Our focus will be to ensure that there is no crime against women in the state," he added.
Chavan said his government had spent Rs 900 crore for drought-relief measures so far.