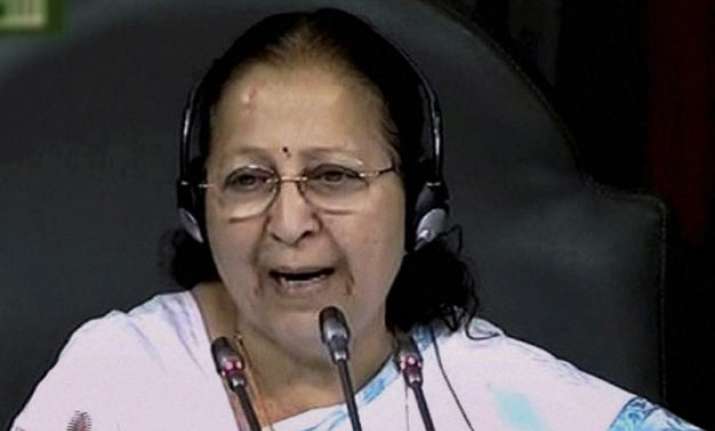 New Delhi:  Lok Sabha Speaker Sumitra Mahajan on Monday "named" Congress member Adhir Ranjan Chowdhary for disregarding and insulting the chair by banging a placard on her table.
The speaker named Chowdhary under rule 374 (1) which authorises her to suspend a Lok Sabha member for at least a day.
Chowdhary was quick to express regret, but his apology was not accepted by the speaker.
"Despite my request again and again that placards should not be shown, placards were being put in front of members who wanted to speak. The behaviour of Adhir Ranjan Chowdhary is totally unacceptable. This shows disrespect to the chair. I name him for having disregard for the chair," Mahajan said in her ruling.
The rule also allows a motion to be made for suspension of the said member for the rest of the session.
BJP MP Arjun Ram Meghwal put forth the motion immediately after the speaker named Chowdhary.
However, soon senior members from other parties like Trinamool Congress' Saugata Roy and CPI-M's M. Saleem objected saying the ruling party's action was vindictive.
Following this, the speaker asked Meghwal to withdraw the motion.
However, Mahajan who did not accept Chowdhary's apology asked him to leave the house for the day.
During heated protests by the opposition, led by the Congress, Chowdhary was seen banging a placard on the speaker's table.
He was stopped first by Lok Sabha Secretary General Anup Mishra and later Congress member Jyotiraditya Scindia who took him away.