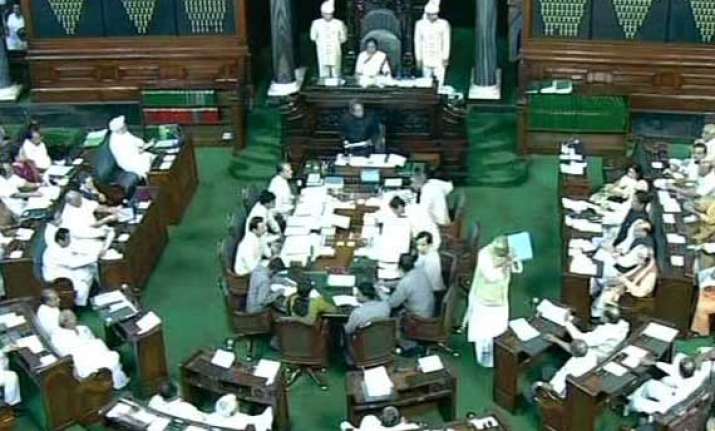 New Delhi:  Indian politics touched its nadir today when an expelled Congress MP used pepper spray inside the hallow precincts of Lok Sabha, triggering unprecedented clashes and leaving 16 MPs suspended for turning parliament into a house of shame.
Lagadapati Rajagopal, one of six MPs expelled from the Congress this week, was assaulted by fellow MPs  and taken out of the house by marshals after he sprayed the pungent pepper at startled members to vent his anger over the introduction of Telangana Bill.
In the melee, MPs came to blows, a mike was ripped out, glass shattered and a computer was smashed.
Both Speaker Meira Kumar and leaders of political parties described the Thursday turmoil as a blot on Indian democracy. Janata Dal-United's Sharad Yadav branded Rajagopal's conduct as sedition.
"This is an attack on our democracy and it is nothing short of sedition," said Yadav, who was in the Lok Sabha when Rajagopal did the unthinkable.
"If the strongest action is not taken, it will be difficult for parliament to run."
Rajagopal's frenzy sent scores of MPs and Lok Sabha officials -- and journalists in the media gallery -- running for cover, coughing violently and with a burning sensation in their eyes.
A pungent odour enveloped the house, adding to the chaos caused by the unending sloganeering and disruptions since morning.
Amid the commotion, the UPA government managed to introduce a bill that would pave the way to carve out a Telangana state out of Andhra Pradesh -- precisely the issue over which Rajagopal was protesting. But the BJP and some others contested this claim.
TDP member M. Venugopala, who too is against Andhra Pradesh's break up, wrenched the speaker's microphone.
He refused to apologize for the behaviour.
"No, I didn't do anything wrong," the agitated MP said. "I was protesting. How dare they break up Andhra Pradesh?"
Sixteen Lok Sabha MPs were suspended for five days. They included five of the Congress, four of the TDP, two of the YSR Congress including its leader Y.S. Jaganmohan Reddy as well as five expelled by the Congress this week.
The Lok Sabha did meet again but there was no normalcy. Andhra Pradesh MPs again walked towards the speaker shouting slogans, joined by Tamil Nadu members equally angry over the attacks on their fishermen by the Sri Lanka Navy.