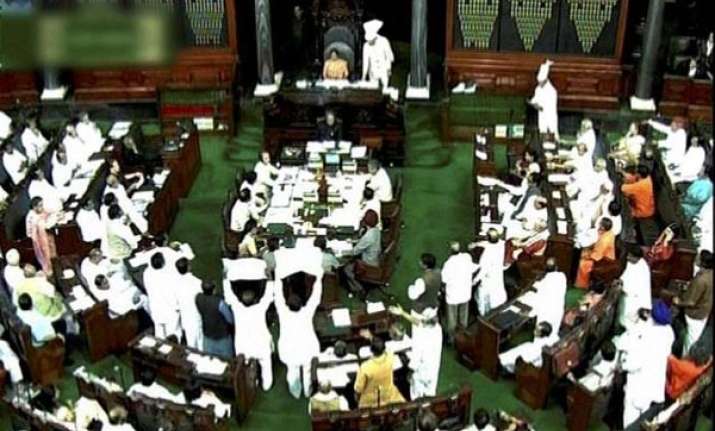 New Delhi, Dec 4:  The Lok Sabha today witnessed a daylong debate marked by frayed tempers on the issue of FDI in multi-brand retail with Congress and BJP taking potshots at each other, and the SP supremo Mulayam Singh Yadav clarifying that he was against FDI in retail, but would not support the BJP's resolution.
BSP leader Dara Singh Chauhan also opposed FDI in retail but said his party would decide tomorrow at the time of voting in Lok Sabha.
Initiating the debate, Leader of Opposition Susma Swaraj lashed out at the UPA government and beseeched the Prime Minister to withdraw the decision to allow FDI in multi-brand retail.
The Congress fielded its legal eagle Kapil Sibal who said that it was the BJP which had declared in its manifestoes in 2004 and 2009 that it would allow FDI in retail.
Sibal said, Congress is for the farmers and consumers, while the BJP is for the middlemen and wholesalers.
"Even in West Bengal, the Pepsico is giving better prices to potato farmers, and the Trinamool govt is opposing Fdi in retail at the Centre", Sibal pointed out.
Sibal took potshots at the Left and the BJP. He described the Left as based on FDI (foreign direct ideology) and the BJP as a "multi-brand party". "Sushmaji in this competition of brands, you can easily lead in your own party", he quipped.
Earlier Leader of Opposition Sushma Swaraj today lashed out at the UPA government for unilaterally taking a decision to allow FDI in multi-brand retail without consulting the other parties and state governments.
In an impassioned speech, frequently disrupted by shouts from Congress benches, Swaraj appealed to Prime Minister Manmohan Singh to withdraw the decision and avoid a vote. Otherwise, Swaraj said, pointing towards the SP and BSP benches, the time has come to vote this decision down.
"The FDI will fall, this government will not fall. Let's force the government in withdrawing this FDI decision. We are not against FDI per se, we are only opposing FDI in small retail business", said Swaraj.
Swaraj went to the extent of offering to accompany the Prime Minister to World Investment Forums to invite FDI in other sectors like infrastructure, aviation and power, if the government agreed to her demand. "Allow our traders to run their 'daal-chaawal'(rice-pulse) business. Our traders from Rajasthan know how to sell groceries in Assam, a trader from Bhiwani knows how to sell groceries in Asansol", she said.
6:15 pm:
Speaker Meira Kumar adjourns Lok Sabha for tomorrow morning.
5:45 pm:
BSP's Dara Singh Chauhan opposes FDI in multi-brand retail and asks Congress to first implement it in its own ruled states first. Chauhan said his party would decide on its stand at the time of voting tomorrow.
5.15 pm:
Samajwadi Party supremo Mulayam Singh Yadav says, at least a big lawyer like Kapil Sibal should not support FDI in retail. Towards the end of his speech, Yadav turning towards BJP said, neither am I supporting you, and turning towards the Congress said, neither am I opposing you. "It is my personal opinion that FDI in multi-brand retail is not in the nation's interest.
4:15 pm:
Minister Kapil Sibal picks holes in Sushma Swaraj's speech saying that it was the BJP which had promised FDi in multi-brand retail in its 2004 and 2009 manifestos. "For the first time I have heard a Leader of Opposition here speaking in favour of moneylenders".  To this, Sushma Swaraj responded: "No, I spoke about aadhatiya (grain merchants) and not sahukar (moneylenders)".
Sibal says, India is today the world's second largest producer of fruits and vegetables. Out of 200 million tonnes of fruits and vegetables produced, 80 million tonnes
go waste because of lack of cold chain, he said. There are presently 8 commission agents between the farmers and the market, Sibal pointed out.
Sibal said, FDI in retail means, it will be implemented only in one million plus cities, which are 53 in number. Out of this only 18 cities will get foreign retailers.
And that too, under strict rules: they must invest $ 100 billion, out which $ 50 billion must be spent on back-end infrastructure, and 30 pc of goods should be sourced from small and medium entrepreneurs.
Today, Sibal pointed out, India, after allowing FDI in automobile, has become the world's largest auto component supplier nation.
The people of this country may not know what  BJP's policy(neeti) is, but the people know your intentions (neeyat) ", said Sibal.
3.45 pm:
Sushma Swaraj winds up her speech with an impassioned plea to PM Manmohan Singh to withdraw the decision on FDI in retail. She read out a letter written by Singh as Leader of Opposition written during NDA rule to Maharashtra Chamber of Commerce saying that the then Finance Minister has promised FDI in retail trade will not be allowed.
Swaraj also took potshots at Congress leader Sonia Gandhi for her Ramlila Maidan speech in favour of FDI, in which she had reportedly said that the UPA government has done so much in such a little time.  
"Do you mean to say, Manmohanji's government has done better than the govts of your grandfather-in-law Nehru, mother-in-law Indiraji and husband Rajivji?" As Sonia Gandhi gesticulated at her saying she meant against the NDA rule, Sushma continued : "It's the Congress which ruled 50 out of the 60 years from 1952 to 2012, and out of the 50 years, Gandhi-Nehru family ruled for 30 years. So with whom, were you comparing Manmohanji's rule?"
Swaraj went on to say: "Our Prime Minister had mentioned we should be ready to go down fighting. Mannmohanji, you should fight for the poor, not the rich, fight for the small, not the big, fight for the country, not the multinationals". FDI in retail trade will render 4 crore directly employed people jobless and affect 20 crore family members, said Sushma Swaraj.  
2.58 pm:
Congress members constantly interrupt  Sushma Swaraj's speech as she says, removal of middlemen is not the panacea of all ills. Wholesalers in rural areas act as "traditional ATMs" for farmers, they help them out whenever farmers need money.
Big foreign corporates won't do that, she says. Swaraj says, how PepsiCo misguided Punjab farmers and rejected to take potatoes saying they were smaller in size. Even Amul founder late Verghese Kurien has opposed FDI in retail, says Swaraj.  
Foreign corporates will engage in predatory pricing, by removing all competition in the form of small traders, says Leader of Opposition. Swaraj cites example of sugar mills, who are troubling sugarcane farmers, as the farmers deal directly with sugar companies.
2:27 pm:
Leader of Opposition Sushma Swaraj begins debate.
2:20 pm:
Speaker Meira Kumar gives her ruling disallowing Sinha's contention. "I've heard all members regarding omission of item no 29 and 30 from today's list of business. Rule 235 says, when a notice is given for modification for a resolution, the Speaker is duty bound in consultation with the Leader of the House to decide.
.... the 30 days statutory period remains intact, it is not taken away, so far seeking amendment is concerned. Under Rule 235, I consulted the Leader of the House and Parliamentary Affairs Minister also requested to allow discussion on this to save the time of the House. In order to avoid repition of debate on the same subject, I in my own discretion has allowed the debate together. All the resolutions will be taken up for voting one by one."
2: 17 pm:
  Leader of House Sushilkumar Shinde says, both the sides had agreed to a voting under Rule 184. So there should be no more confusion now.
2:16 pm:
CPI's Gurudas Dasgupta says, opposition is not running away from vote. "I'm sure you have been able to manoeuvre a majority. But you should give the members time to consider the notification.  If you have the majority, we will come back again for a fight or another issue. Why are you in a hurry?"
2:12 pm:
BJP, Left members angrily object as Parliamentary Affairs Minister Kamal Nath says, since both the motions are on the same issue they can be taken up together for vote.  "Rules and precedents are very clear. Both the motions are the same, then why is the Opposition running away from vote?  Do not  hide behind the rule by running away from vote."  Dr Murli Manohar Joshi quips: "A Parliamentary Affairs Minister cannot be allowed to breach the privilege of Parliament".
2pm : Speaker Meira Kumar  asks Leader of Opposition Sushma Swaraj to begin debate. BJP's Yashwant Sinha raises point of order, saying the voting on FDI retail should not clubbed with  FEMA amendment notification, as there is 30 days time left.  Sinha says, voting on both issues should be done separately. CPI-M's Basudev Acharya supports Sinha's contention.
12:05 pm:
In a TV debate outside Parliament, Rajiv Shukla alleges that the NDA government's Group of Ministers had approved 100 per cent FDI. BJP leader Venkaiah Naidu counters saying that "we are not against FDI, we are against FDI in retail. Even Prime Minister Manmohan Singh who was then Leader of Opposition opposed FDI in Rajya Sabha, and your minister P R Dasmunshi described it as "anti-national."
Seems to be a happy merry-go-round  between BJP and Congress, eh?
12 noon:
BJP members object as some Congress members make allegations against Modi government for favouring some companies in gas exploration. House adjourned till 12:30 pm. In the Rajya Sabha, SP members again trooped in to protest promotions to SC/ST, and the house is adjourned till 2 pm.
11:50 am:
Question House progresses smoothly inside LS.
11.40 am :
MOS Parliamentary Affairs Rajiv Shukla: " We will try to convince and pursue (persuade?) the parties and tell them that FDI is not against the interest of traders. It is in the interest of farmers and small traders too."
11:38 am :
BJP leader M Venkaiah Naidu: "The entire nation, the world is watching. Parties which protested against the FDI and marched into the well of the House  and parties which supported our Bharat Bandh against FDI must now vote against this. We are hopegul these will vote against FDI as it is not in the interest of the country."
10.59 am:
SP leader Ram Gopal Yadav says: "My leader Mulayam Singhji will decide. Our final stand will be decided on 5th, that is tomorrow. We will be listening to the logic of the government, will be listening to the reply of government and what sort of benefits the FDI will bring to the country. It should not be taken for granted that we will support. We can't support FDI. Even in Lok Sabha we will not vote in favour of FDI"  (meaning, will SP abstain?)
10:59 am:
Trinamool Congress leader Saugata Roy says: "We resigned from the government on this FDI issue. We will take all sorts of measurs. We will say whether those who have been opposing FDI will really vote against the government or not."
10:55 am:
BJP spokesperson Ravi Shankar Prasad reels out the names of leaders who will speak. Sushma Swaraj will open the debate at 2 pm, and Murli Manohar Joshi and Yashwant Sinha will be the major speakers for BJP.  Prasad says, Arun Jaitley and Venkaiah Naidu will be the major speaker on FDI in Rajya Sabha.
10:58 am :
Parliamentary Affairs Minister Kamal Nath appeals to all political parties "not to subscribe to the politics of BJP."
The discussion on FDI in multi-brand retail will be under Rule 184 in Lok Sabha , wherein a voting will take place at the end of the debate, unlike under Rule 193 where there is no voting at the end of debate.
The BSP has 21 members in the Lok Sabha and 15 in the Rajya Sabha, where the government needs the positive vote of both the parties to defeat the Opposition motion. The SP has 22 members in the Lok Sabha and 5 in the Rajya Sabha.
The Rajya Sabha will debate the motion on December 6 and 7.
Both the  Congress  and BJP have issued three-line whips to their party members asking them to be present in the Lok Sabha today and tomorrow when the crucial debate on FDi will take place.
Of the total 245 members in the Rajya Sabha, the UPA has a strength of 90. With 27 outside supporters from the BSP, SP, Lok Janshakti Party and the Rashtriya Janata Dal, the government tally stands at 117 as against the magical 123 figure for majority.
The opposition claims the support of 110 members. Besides, there are seven independents, five from smaller parties and 10 nominated.