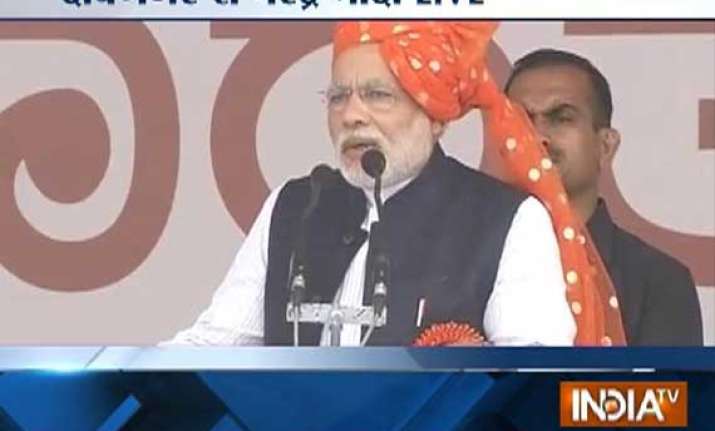 Davangere(Karnataka): Former Karnataka chief minister B S Yeddyurappa, facing corruption charges, appeared on the dais with BJP prime ministerial candidate Narendra Modi at a huge rally here today, in which Modi publicly praised the former BJP strongman.
Modi praised Yeddyurappa for pioneering India's first farmers' budget, and his proposal to link rivers in Karnataka. The crowd applauded whenever Modi mentioned Yeddyurappa's named.
At the end of the rally, Modi alongwith Yeddyurappa waved to people present at the venue.
The crowd even lapped up the name of Shobha Karandalje, a close associated of Yeddyurappa, when Modi mentioned her while welcoming leaders present on the dais.
In his hard-hitting speech, Modi replied to Rahul Gandhi's charge that BJP was silent about its ministers indulging in corruption.
"I want to know from the Congress mahashay (gentleman) how many ministers in Rajasthan and Haryana are currently behind bars, and for what sins", asked Modi rhetorically.
Modi hit out at the Congress saying, Congress and corruption are twin sisters, and corruption always takes birth in the womb of Congress.
Here we are giving you live updates of this rally: