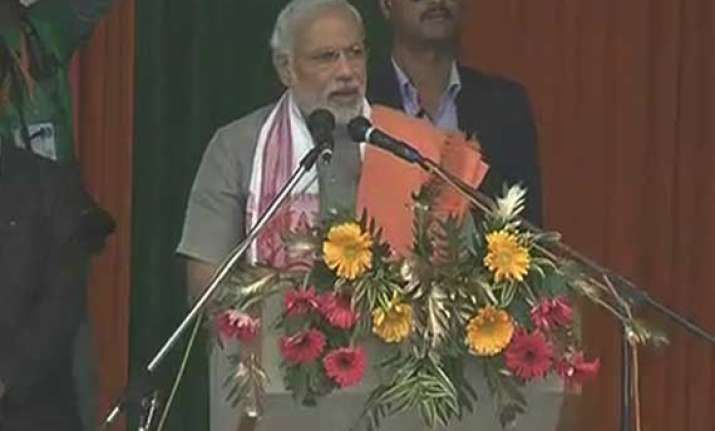 Chennai: Gujarat Chief Minister and BJP's PM candidate Narendra Modi today addressed a rally in Chennai.
Earlier, BJP prime ministerial candidate Narendra Modi today replied to Congress leader Rahul Gandhi's charge that people who spent their entire life for RSS ideology "that killed Gandhi" are not erecting a statue of Sardar Patel.
Addressing a huge rally in Guwahati, Modi said: "These Congress people question me, Modiji you belong to RSS and BJP, and you are going to erect Statue of Unity for Sardar Patel.
"I told them, for you, Sardar Patel may be the leader of your party, for us, Sardar Patel is the leader of the country.
" For you, Sardar Patel may be a politician, for us, Sardar Patel is rashtraneta, statesman, our national heritage.
" Congress leaders will never understand my sentiment. Sardar Patel, who unified this great country, that great man's work was acknowledged by the Congress leaders till now.
"Today, when the people of Gujarat have taken up the work of erecting the statue, Congress leaders are at last, being forced to take SardarPatel's name, even though unwillingly. That is our success.
"The leader whom the Congress forgot for 60 years, are now being forced to remember him", said Modi in a direct repartee to Rahul Gandhi's barb.
Modi also targeted Prime Minister Manmohan Singh, Narendra Modi and  accused him of doing nothing for Assam which he represented in Rajya Sabha for the last 23 years and wondered what the nation can hope for itself from such a leader.
"It's only a matter of 100 days, Congress' exit is confirmed. They won't survive," Modi said.
Launching a scathing attack on Singh, Modi said even if an ordinary worker from Assam would have represented the state for so many years, he could have changed the face of the state but Singh failed to do so and owed an explanation to the people for it.
 "For 23 years you have been sending Prime Ministers from here. You tell me, you made such a big investment but what did you get in return. Did you get anything?...If he being yours could not do anything for you, then what will he do for the nation," he asked the people while addressing a public meeting here.
"Among all Northeast states, Assam's condition is the worst," he said, alleging "Congress leaders are narrow minded. Their thinking is narrow, dreams are small and vision is shortsighted."
He said, "Prime Minister ji if even a small worker from Assam would have sat in Rajya Sabha for 23 years, he would changed the face of Assam. You are sitting in Rajya Sabha for 23 years, holding the coveted post of Prime Minister and yet your own state of Assam is facing such a bad condition, then you can imagine in what bad shape will the whole country be."
Modi said in a democracy people of Assam and that of the nation have the right to demand an explanation from the Prime Minister for failing to meet their expectations.
"Prime Minister ji, you will have to reply. People of the country have the right to seek an answer from you and people of Assam have a special right to demand an answer from you," Modi said. 
"You have tolerated Congress for 60 years. They only made promises and misguided the country. Give me just 60 months, I will fulfil your aspirations," Modi said.
Attacking Congress government over corruption, the BJP leader said "They are depositing black money abroad and do not want to bring it back."
The BJP government will do everything to bring all black money to India and invest in various development works, including for the poor, spreading education and giving food
and medicine to the elderly,
Modi also raked up the issue of Assam's land which the central government is seeking to barter with Bangladesh as part of a treaty.
"Congress leaders think this country is their personal property. They have decided to give certain land of
Assam.... Have they asked you or sought your permission. Why are they doing so.... Did you ask your leaders," he said questioning the right of the UPA government to give away
Assam's land.
The Gujarat Chief Minister also praised Assam for its tea industry, saying the brew "wakes" up the people of the country and he has a special love for it.
"Assam has both tea and timber. And I have a special love for tea. I used to fill energy in people by boiling the tea leaves from Assam," said Modi, who was once a tea vendor.
He also raised the issue of bloodshed in Assam due to communal clashes saying, "people of Assam are peace-loving, yet who has brought bloodshed to Assam... who is responsible for the death of so many youth? Will we allow this game of bloodbath to continue?"
Here is the live reporting for Modi's rallies: