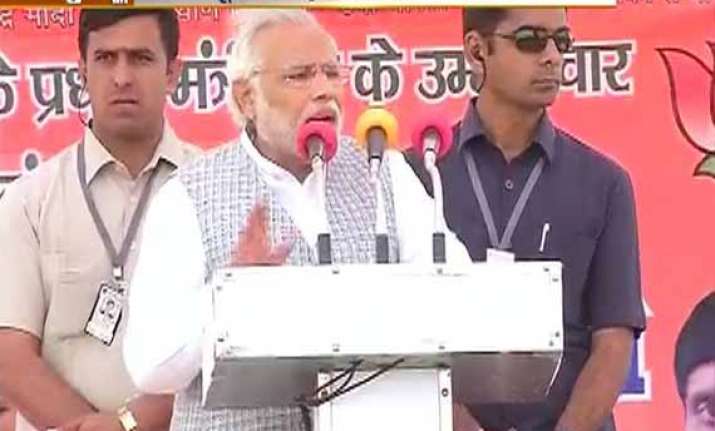 Etawah (UP): Gujarat Chief Minister and BJP's prime ministerial candidate Narendra Modi contrasted his humble background with that of Rahul Gandhi who was born with silver spoons and accused the Congress vice president of going on poverty tourism at times.
Addressing an impressive election rally at Etawah in Uttar Pradesh, Modi said, "Delhi's Shehzada has not seen poverty. Therefore, just to know how a poor looks like, how many legs they have, how do they live, Shehzada visits a poor's family the way others visit places like Taj Mahal' with all the cameras. He enjoys talking about poor. They were born with silver spoons.  For them, poverty is tourism.  I belong to a poor family. I have seen poverty. I came here after selling tea."
Modi attacked both Akhilesh and Mayawati governments for wasting time on creating elephant parks and lion safaris. Modi lamented the fact that they did not have the time to care for people of UP.
"In UP, some people were busy making elephant parks, some others are busy making lion safaris but nobody cares for people of UP. Cane farmers are dying, nobody is worried about them. Farmers committed suicide in this country and their number exceeds the number of jawans killed on border. Today it's 'Mar jawan, Mar Kisan' for the govt," added Modi.