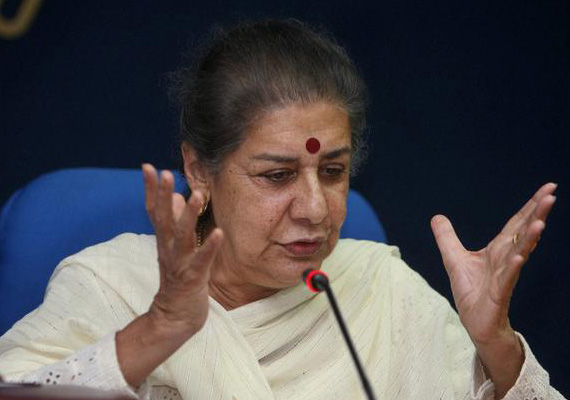 Shimla, July 30: All-India Congress Committee (AICC) general secretary Ambika Soni Monday said that like the Mahatma Gandhi National Rural Employment Guarantee Act (MGNREGA) the central government's food security scheme would also empower people.
"The Congress party policies are aimed at ending the dole mentality. Earlier, MGNREGA and now food security scheme are aimed at empowering people," she told reporters here.
On her day-long maiden visit to Himachal Pradesh after becoming the party's in-charge for the state, Soni said the party would educate its cadre, right up to the grassroots, about the food security scheme so that they could remove their own doubts and as well as those that people had.
Soni, who addressed a meeting of Congress workers here earlier in the day, said the party organisation and the Congress government had perfect coordination in the state.
On being asked about state leaders who hold both government and party posts, Soni responded: "It's purely the call of the individual to chose where he (or she) wants to work."
"There is no dictatorship. If any individual wants to work in the government and quit the party post, that's fine. We will sort it out as we progress," she said.
Sources in the party said there are around six Congress leaders in the state who have been holding a government as well as party post.
"The party is important and it is the party which goes to the people. Many leaders at the national level are committed to working for the party. For that, they have left government posts. I had also left the ministry seven months ago to work for the party," she said.
Last week, legislator Rakesh Kalia resigned as chief parliamentary secretary (CPS), saying he was resigning to uphold the principle of one man, one post.
He was recently made AICC secretary.