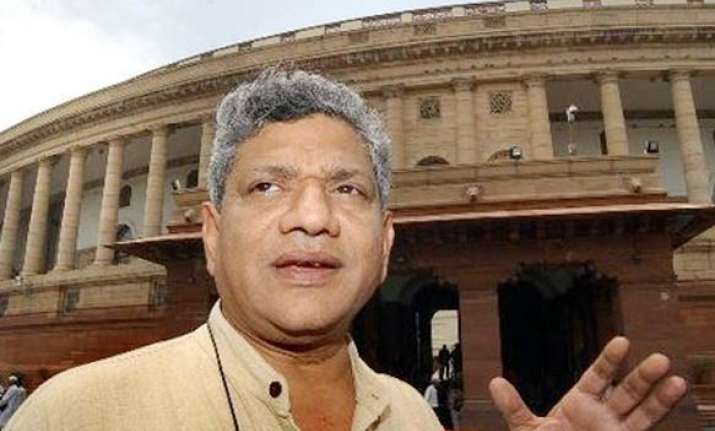 New Delhi, Feb 22: Left parties today attacked Prime Minister Manmohan Singh for "virtually justifying" that a JPC inquiry into the 2G spectrum scam was not required but was accepted by the government only to pacify the opposition.
Welcoming the government's decision to form the Joint Parliamentary Committee on the issue, CPI(M) leader Sitaram Yechury said the prime minister "virtually justified that JPC is not required and the Opposition demand was accepted to allow Parliament to function".
"If this wisdom had been displayed earlier, we would have saved the Winter Session (that was washed out due to protests over demand for a JPC probe)," he said.
CPI National Secretary D Raja said instead of blaming the Opposition, the prime minister should adopt a self-critical position. "The same good sense should had prevailed during the Winter Session," he said.
Yechury said the Left parties were demanding JPC to probe as to how the entire system was "grossly manipulated to allow such a big scam to happen".
While Telecom Minister Kapil Sibal said there was "zero loss" to the public exchequer, the prime minister had compared it with the subsidies being granted to the poor on food grains, the CPI(M) leader said.
"Singh virtually said the manner in which the spectrum was allocated was actually a subsidy to corporates," he said.
"The prime minister is making a virtue out of the government's inaction of the past three months and looking to be benevolent in granting a JPC," Yechury said, adding that this approach "actually reflected the state of the government which was in the grip of a directionless drift".
Maintaining that the loss should not be calculated on the basis of the 3G spectrum allocation rates, Yechury said it should be done on the basis of the price telecom firms Swan and Unitech received soon after they got 2G licenses.
"Stakes in these two companies were sold at six times more price than they bought spectrum from the government. This is scandalous," he said.
Yechury said new guidelines and regulations should be recommended by the JPC so that the system cannot be manipulated so grossly, as was done by the JPC set up in the wake of the Harshad Mehta stock market scam following which the Securities Exchange Board of India was set up.
On the composition of JPC, Yechury said it should be a 30-member committee with one Chairman as has been the norm for all the parliamentary standing committees where 20 MPs represent Lok Sabha and 10 the Rajya Sabha.
He also warned the government "not to manipulate (the JPC formation) in a manner to keep certain parties out or certain parties in." "We want fair representation," he said.
On whether the Left would want the scams relating to CWG be brought into the JPC ambit, Yechury said, "We don't have any problems in that. But that should not stop the JPC from launching its activities and begin probing the spectrum scam." PTI