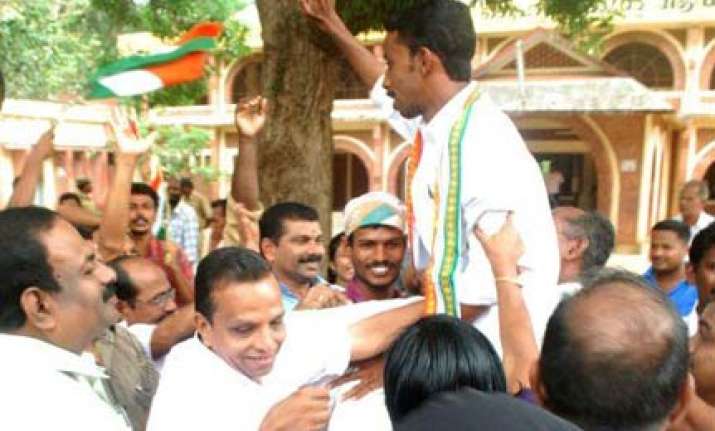 Thiruvananthapuram, Oct 27:  The ruling CPI(M)-led Left Democratic Front in Kerala today suffered a major jolt with the opposition UDF wresting two city corporations and dominating the race in muncipalities for which counting was taken up today.
In a major upset, the LDF lost three-decade long hold over the prestigious Kochi corporation, where the Congress and its allies lifted a majority of seats. 
 In nearby Thrissur corporation also, LDF was humbled by the opposition front. However, LDF has a slender lead in Kollam and Thiruvananthapuram city corporations, now held by them. 
The counting for Kozhikode city corporation will be taken up only on October 31 as the poll was deferred in a block division. 
Trends from counting centres across Kerala show that UDF is racing ahead in 33 municipal bodies and has put up a very good performance in Malappuram and Kottayam. 
UDF scored a notable win in Kalpetta municipality in Wayanad, a stronghold of Socialist Janata (Democratic), the JD faction which left LDF to join the Opposition Front. 
Though far behind the LDF and UDF, BJP also picked up a handful of seats in many places, mainly in the northernmost Kasargod municipality where the party has already emerged as a decisive factor. 
In rural civic bodies also,UDF has put up an improved show this time, giving a tough fight to the LDF, which controlled village, block and district panchayats in the 2005 elections. 
During the campaign, both the ruling LDF and Opposition UDF had described the civic body elections, held on October 23 and 25 as a referendum on the LDF government's performance, when assembly polls are just six months away. 
The LDF was routed in Thrissur corporation, where UDF
wrested power, winning 45 of the 55 seats. BJP won two seats and two divisions favoured independents. PTI