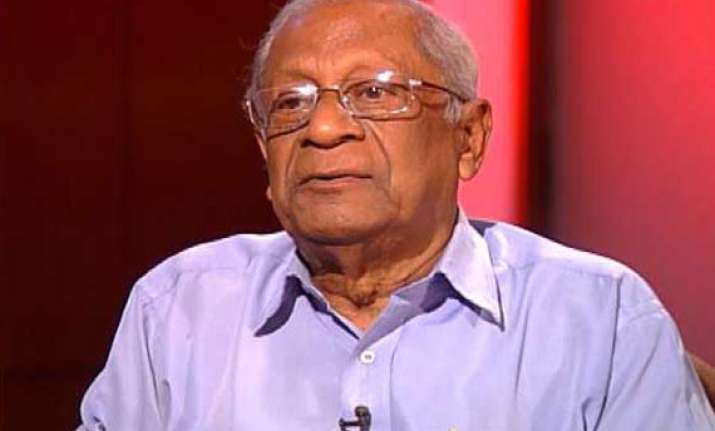 Kolkata: CPI heavyweight A B Bardhan Tuesday prophesied that the left and regional parties would come up with a better show in the coming general elections while neither the Congress nor the BJP would be in a position to form government.
Iterating that the Congress tally in the next Lok Sabha polls would drop sharply, Bardhan said a media meet here: "I feel it won't get more than 110-120 seats.".
The Communist Party of India veteran termed as "day dreaming" the Bharatiya Janata Party's (BJP) hopes of forming the next government.
He ridiculed the two parties for trying to project the polls as a contest between two personalities - Congress vice president Rahul Gandhi and BJP national campaign committee chief Narendra Modi.
"People will reject both the parties. Polices of a party holds more importance than individuals," he said.
Predicting a new alignment of forces based on policies and programmes, Bardhan said the left parties were going to all non-Congress and non-BJP parties.
"We are approaching all parties opposed to the Congress' neo-liberal policies and the BJP's communal politics."
Blaming the trio of Prime Minister Manmohan Singh, Finance Minister P. Chidambaram and Planning Commission Deputy Chairperson Montek Singh Ahluwalia for the economic ills plaguing the country, he said "the trimurti (trio) champion neo-liberal economic policies which have led to the present situation".
He charged West Bengal's Trinamool Congress government with "denying democratic rights of the people".
"The law and order situation in the state is very bad. The press is also taking note of it. There is anarchy in the education sector," he said.